The Duet 3 Mini 5+ focuses on merging performance with value. It is ideal for users that do not require the high power output of the full Duet 3 Mainboard. 5 Drivers are included on the Duet 3 Mini, in addition to the normal outputs to run a 3D Printer, CNC Machine or Laser Cutter. Like the Duet 3 Mainboard, the Duet Mini can be connected to an SBC (Single Board Computer). The Duet 3 Mini 5+ does not require an SBC, so it comes in Ethernet or Wifi variants. The Duet 3 Mini runs the latest advanced firmware, RepRapFirmware 3 and custom DuetSoftwareFramework running on a single board computer. The main features of the Duet 3 Mini 5+ are:
32 Bit ARM Cortex M4 120MHz Processor.
High-speed bus to a single board computer such as Raspberry Pi.
5 Trinamic 2209 Stepper Motor Drivers. 1.4A RMS Current running at 2.0A peak. Full firmware control including 256 Microstepping, StallGuard 2, and StealthChop 2.
CAN-FD Bus that support Duet 3 Expansion Boards.
7 PWM Outputs, 1 x Heated Bed, 2 x Extruders and 4 Fans.
3 Thermistor / PT1000 inputs. Support for PT100 and Thermocouples through daughterboards.
7 Input/Outputs for endstops, probes etc.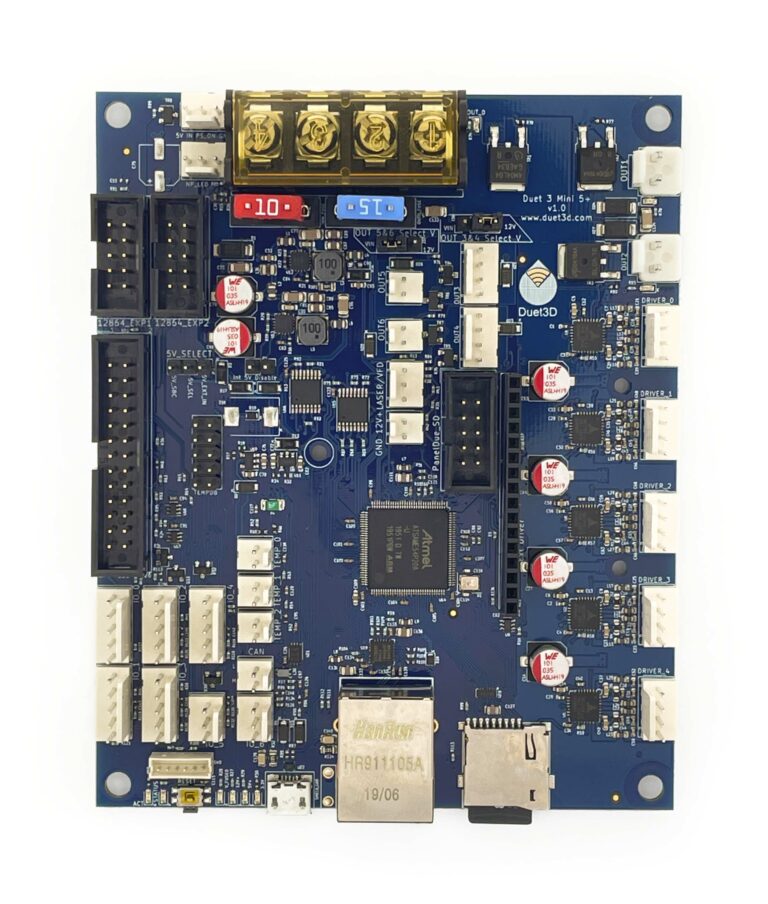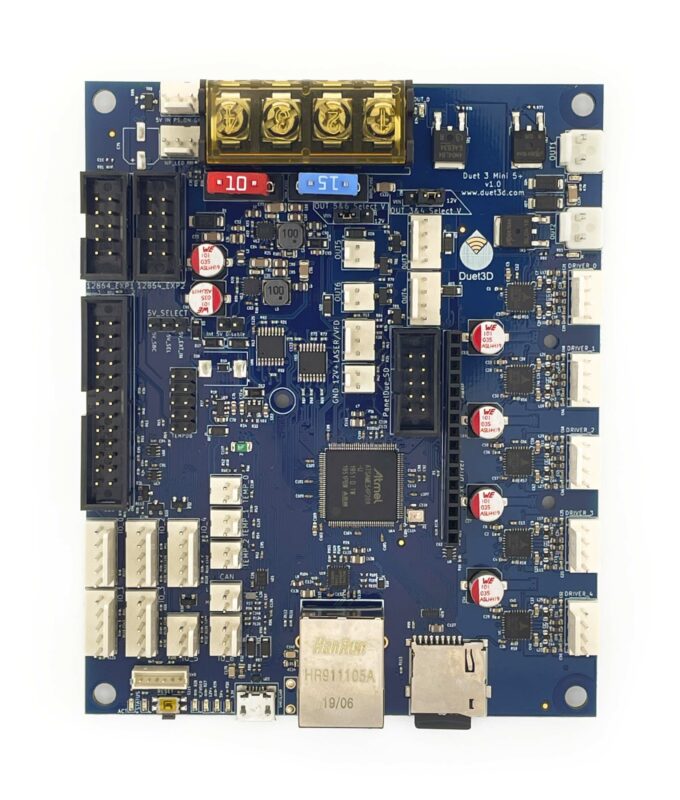 WHAT YOU WILL BE GETTING
Duet 3 Mini 5+
Duet 3 Mini 5+ Connector Pack
Single Board Computer (SBC) Ribbon Cable
USB Cable
External Antenna (WiFi version only)