Please note Carveco Maker is Windows Only and is a digital download. Intuiative but powerful, Carveco Maker is perfectly suited to create toolpaths for a CNC Machine. As well as 2D Design tools, with Carveco Maker you can import unlimited 3D Models. 3D Models can then be manipulated to create complex designs. Carveco Maker comes with with over 600 3D Relief models to give you that headstart in your projects. With Carveco Maker you can import 2D Designs from external programs, but also use the inbuilt drawing features to create your own. All the common CNC operations are covered in the toolpath options, including profiling, pocketing, inlay wizard, and drilling. 2.5D operations like V-Bit Carving, Beveling and Fluting also present in Carveco Maker. With 3D Machining, you can rough, finish and offset raster the model. There is also built-in support for laser machines. With each operation, there is also high-level control available through appropriate settings. Each toolpath can be previewed individually or collectively to get instant feedback on how the job will look. Featuring easy-to-use design tools and the ability to create highly accurate, dependable toolpaths; Carveco Maker is a great, affordable option to pair with your new CNC router or engraver.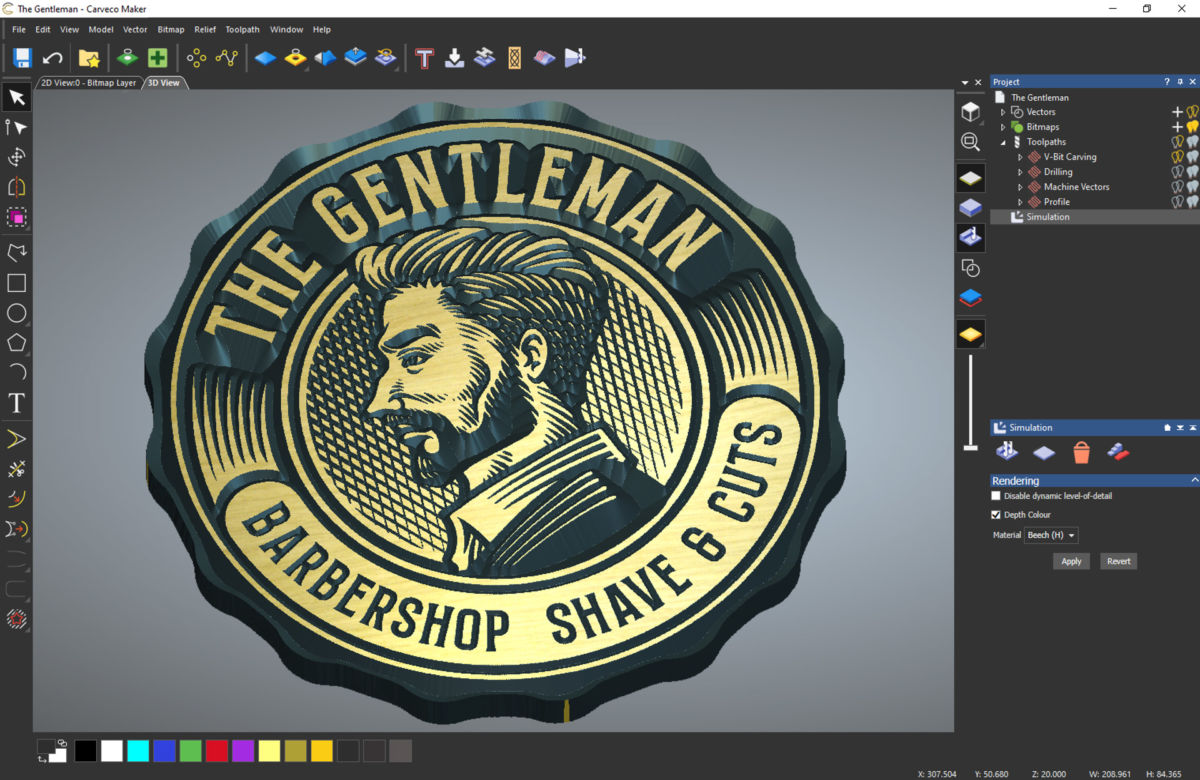 The Maker Process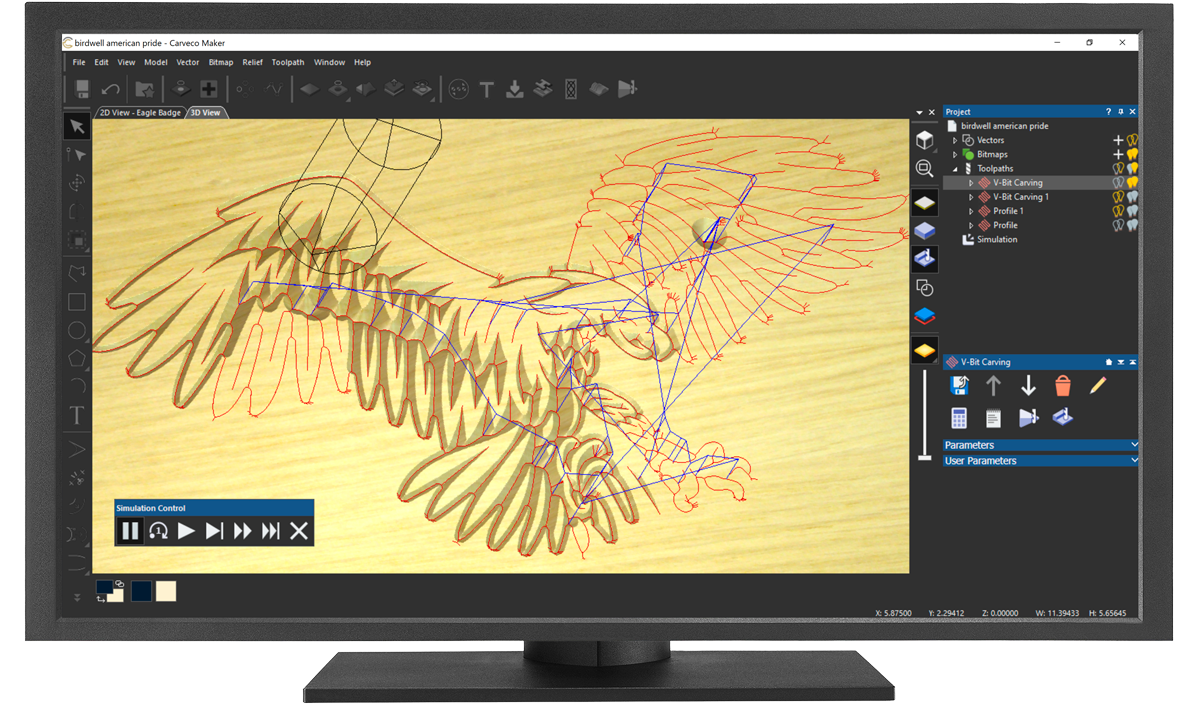 Carveco Maker allows you to create anything from beautiful signs to outstanding cabinet doors. Import the drawing into the program (Or use the inbuilt tools), select the regions you want to cut, choose the toolpath, and the software will take care of the rest. Designs can be imported in a wide range of formats including (EPS, AI, DXF, DWG, PDF, STP etc ). Tools are also included for converting images (JPEG, TIF, PNG, BMP, PDF) into vectors which can then be machined. Standard designs from libraries can also be directly loaded into Carveco Maker to create toolpaths. Vectors can be manipulated using scaling, sizing and positioning tools. Carveco Maker's machining strategies allow you to go from design to usable toolpaths quickly and easily. With mathematically optimized toolpaths, you'll experience dramatically reduced cutting times that let you get maximise the efficiency of your CNC Machine.
CARVECO MAKER FEATURES
Bitmap Editing
Bitmap-to-Vector
Adjust Resolution
Bitmap Layers
Vector Editing
Mirror, Trim, Block-Copy Rotate
Vector Doctor
Fillet
Clip, Spline, Fill, Outline
Vector Layers
Basic Offset
Vector Library
Create Text
Text On a Curve
Relief Clipart Library
Scale Relief
Smooth Relief
Invert Relief
Relief Boundary
Magic Wand
Zero In/Out to Vector
Remove Small Holes
Paste Relief
Preview Relief
Create Mesh
Relief from Greyscale
Profiling
Drilling & Peck Drilling
V-Bit Carving
Inlay Wizard
Fluting
Bevel Carving
Custom Model Origin
Bridges (Breakout Tabs)
Ramping Moves
Final Pass Cut
Raster & Classic Raster (X&Y)
Spiral In A Box & Classic Spiral In a Box
Roughing Raster
Offset Raster
Ramping Moves
Support For Laser Machines
Machining Simulation
Custom Shading Options
Plus more . . .
For a full overview of the features please visit the Vectric website –
Carveco Maker