Designed for machines which require external stepper motor drivers or servo drivers, the Duet 3 Mainboard 6XD is a powerful, fully-featured controller. It has similar inputs and outputs to the Duet 3 Mainboard 6HC and supports up to 6 external stepper/servo motors. The Duet 3 Mainboard 6XD does not have any built-in stepper drivers.
The Duet 3 Mainboard 6XD also has opto-isolated signal outputs to integrate with a wide range of industrial control systems.
The Duet 3 range of products aims to provide maximum flexibility through expansion boards, tool boards and expansion modules. This modular expansion is possible because of the innovative RepRapFirmware 3 running on the Duet 3 Mainboard 6XD.
If you are looking for a board with built-in stepper drivers, see the Duet 3 Mainboard 6HC here https://ooznest.co.uk/product/duet-3-mainboard-6hc/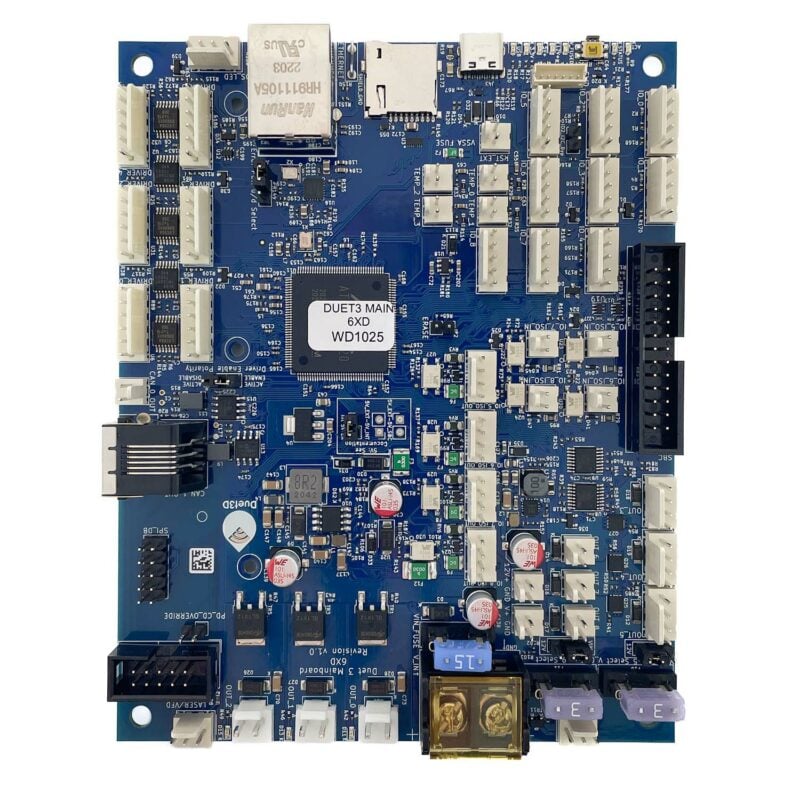 Features
---
Processor
32bit Atmel ATSAME70 ARM Cortex-M7 microcontroller running at up to 300MHz
Expansion
1 x CAN-FD BUS for connecting expansion boards and tools.
Connectivity
1 x Dedicated SPI Bus to Single Board Computer (SBC).
Ethernet network connection available.
1 x USB-C connection for initial setup.
External Driver Support
6 x External driver connections with step/direction/enable outputs, and fault inputs. Signalling is 5V single-ended.
High current outputs
3 x High current outputs
up to 6A each
Medium current outputs
6 x Medium current outputs for PWM fans and similar devices.
3 support 4-wire fans with PWM and tacho wires. Arranged in two banks, each bank is individually fused with voltage selectable between VIN / 12V
Temperature Measurement
4 x Thermistor/PT1000 inputs.
Support for two temperature daughterboards for up to 4 x PT100 or Thermocouple sensors.
Inputs/Outputs
9 x I/O connectors
3.3V output signal level and 30V-tolerant inputs.
4 support opto-isolated connections.
Power monitoring
VIN voltage monitoring allows state save on power failure.
Firmware
RepRapFirmware 3.4 or later – Supports all common machine geometries, easily configurable for any specific machine requirements.
What you will be getting
---
Duet 3 Mainboard 6XD
Connector Pack
SD Card
Please note a USB C Cable is not included.