CNC Machines are inherently noisy and dusty which makes a dedicated workspace for a WorkBee CNC Machine required. Our WorkBee Enclosure aims to solve this issue.
Designed with an aluminum framed extrusion, it allows 6mm thick panel material to be slotted into the extrusion on all sides. This panel material could be completely transparent Perspex to create the wow factor, or very practical 6mm insulated boards for the ultimate in sound reduction. 
Running a CNC Machine in a workshop or office is not ideal as a lot of debris and dust is created. Putting the WorkBee CNC Machine inside an enclosure will contain the majority of debris and dust thus providing a healthier working environment. With 6mm Perspex and Dewalt D26200 a full RPM you can expect a decibel reduction of 18db.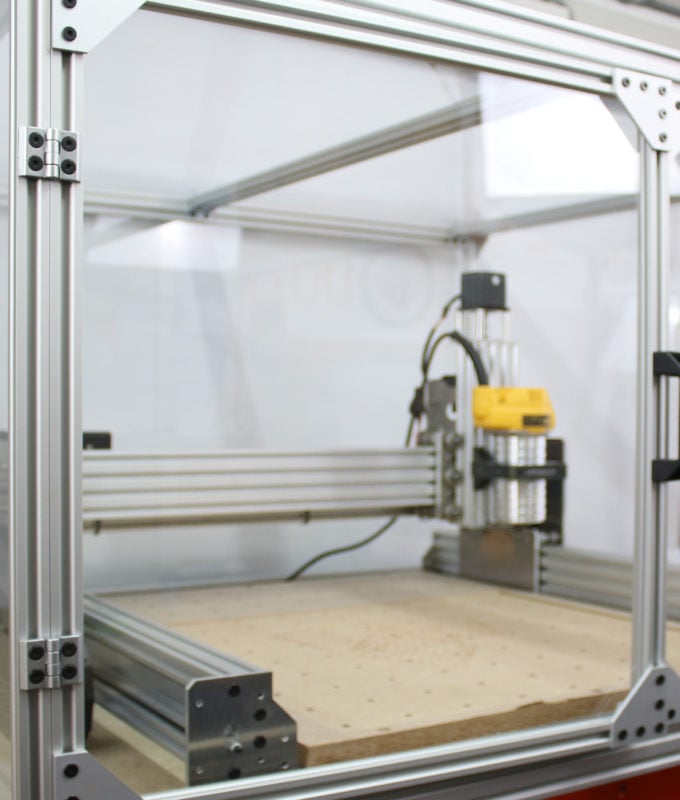 Safety is also a huge factor to consider when operating a CNC Machine. With the correct panel material, like polycarbonate, it would safely contain any flying debris from causing harm. As the whole frame is manufactured from extrusion, extra safety measures can easily be added, for example a lockable latch could be added to the two doors, allowing them to be safely locked to prevent unauthorized persons accessing the machine. Door switches are not provided.
The WorkBee enclosure has two front opening doors, combined with a 545mm high opening allows for ample room to access the whole of your WorkBee CNC Machine. As the enclosure only has front opening doors, the enclosure is only available for machines sizes 750x750mm, 750x1000mm and 1000x1000mm. The enclosure is available in silver and black extrusions, but please not the brackets and hinges used on the machine will be silver for both colour versions.
The panel material is not provided, the required dimensions can be found here: https://learn.ooznest.co.uk/Wiki/Workbee_Enclosure_Panel_Sizes