ABOUT THE ORIGINAL WORKBEE CNC MACHINE
The WorkBee is our flagship CNC Machine and a culmination of all our experience, feedback, and suggestions from designing CNC Machines over the past 5+ years. The WorkBee is capable of accurately cutting foams, woods, plastics or aluminium at depths greater than 25mm and to a 0.1mm accuracy or greater. With a WorkBee CNC Kit you can manufacture engineering parts, toys and signs. In fact, you can make anything you can imagine without leaving the workshop.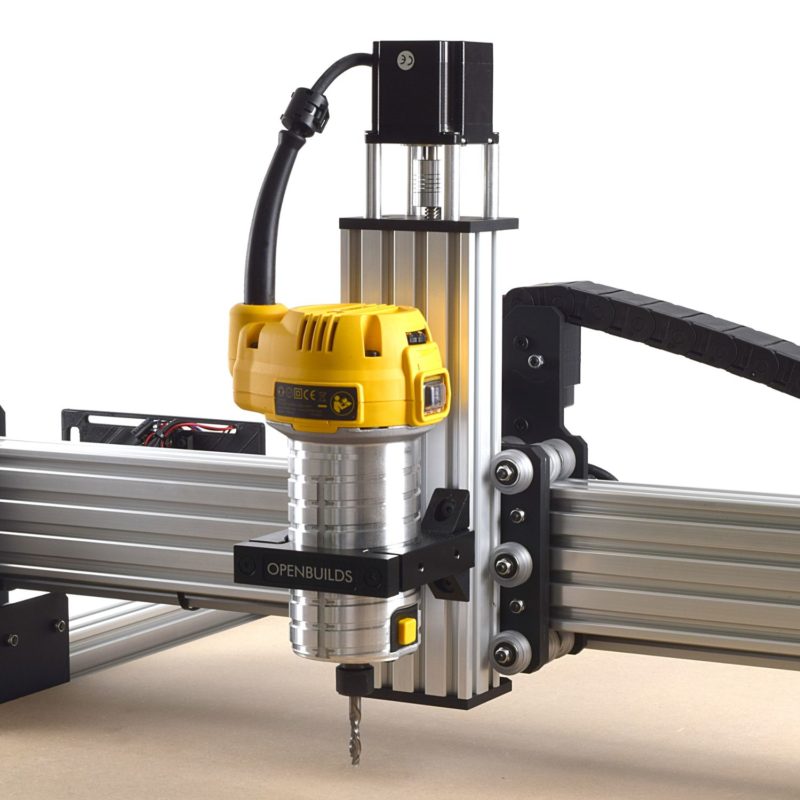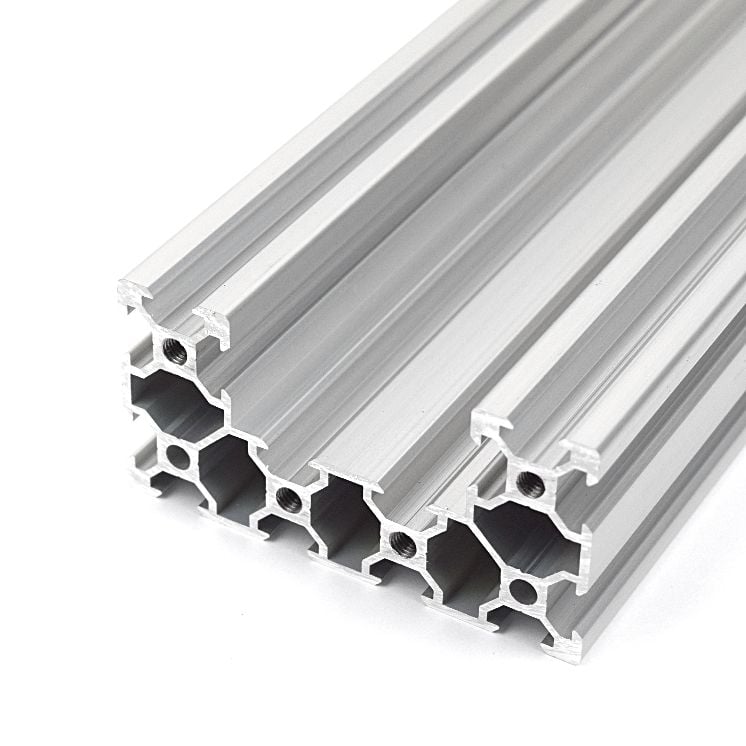 The WorkBee makes full use of the V-Slot Extrusion system. On the X and Y Axis, C-Beam extrusions are used. C-Beam allows the drive systems to be concealed from debris. The screws on the WorkBee CNC Kit are inside the 'C' channel and therefore shielded from the cutting area.
The WorkBee CNC Machine uses Xtreme Solid V Wheels which are manufactured from super hard polycarbonate. This reduces wheel compression, and keeps wear to a minimum. The plates are manufactured from 6mm aluminium and have a protective anodised coating.
SCREW DRIVE SYSTEM
The WorkBee CNC Machine is a screw drive system, the first of it's kind in this price range. One issue with a screw drive system is that it could be limited in size to 1000x1000mm. This size limitation was not acceptable. Therefore we have designed a screw tensioning system for the WorkBee. This tensioning system is used on sizes above 1000x1000mm and allows us to provide a screw drive system for WorkBee sizes up to and including 1500x1500mm.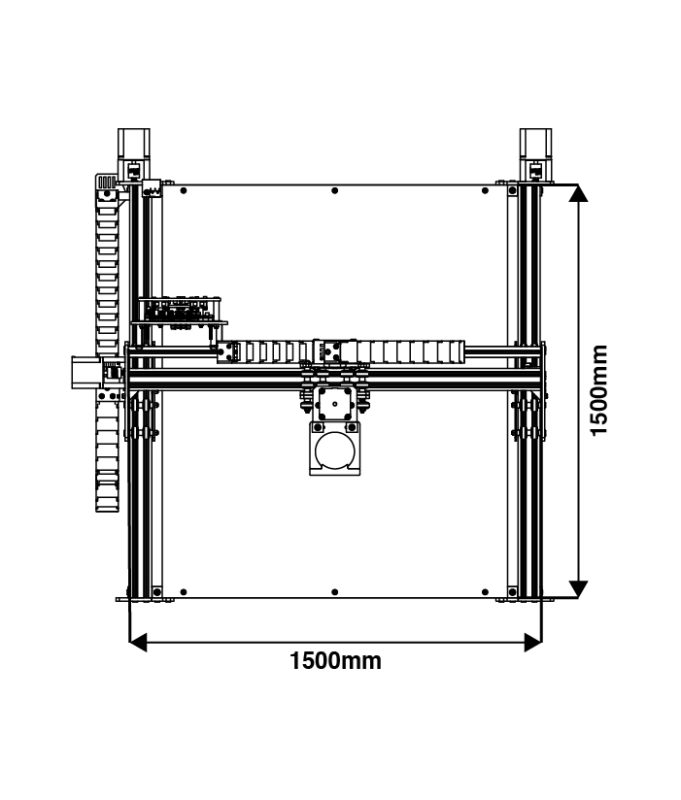 THE FULL KIT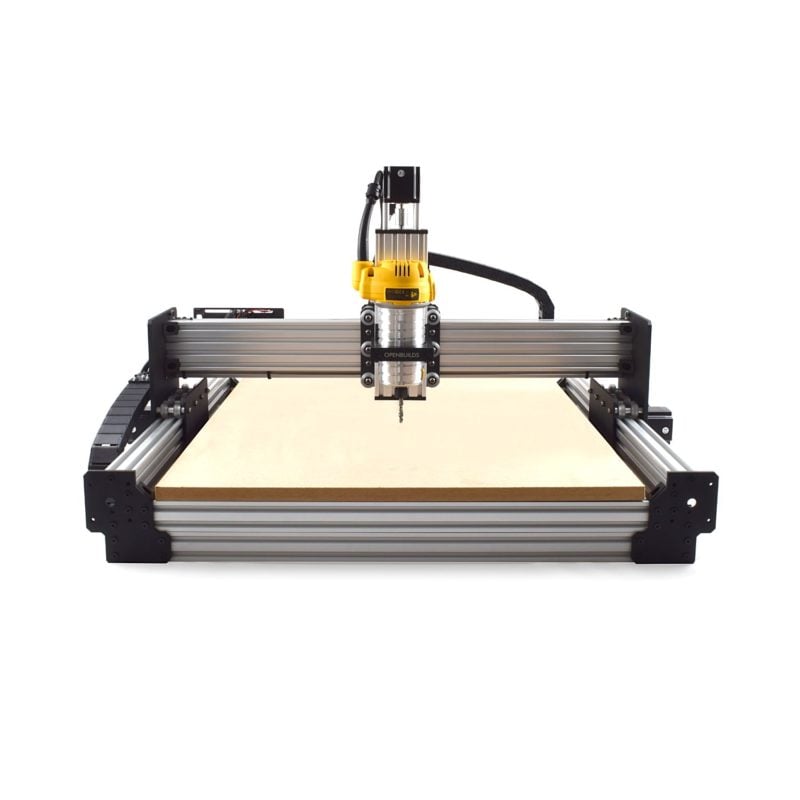 The WorkBee is a self build kit. It includes everything you need to build a working CNC Machine apart from the spoiler board.
The CNC Kit makes use of the extremely powerful Duet 32bit controller. The Duet is a fully featured motion controller, it comes equipped with 5 TMC2660 stepper drivers which have enough power to run the 175oz NEMA23 Stepper motors included with the CNC Machine. For easy repositioning, three homing switches are included (one for each axis) and their corresponding mounts and wires.
The WorkBee CNC Machine comes with a complete cable carrier system on the X and Y-Axis. For safety and good cable management.
HELP IS AT HAND
We like to think we have made a name for ourselves by creating excellent assembly manuals for our machines. All the manuals for the WorkBee can be found on the Ooznest Learning Portal. These are continuously monitored and updated by our technical team, showing the most up to date guides for all your WorkBee needs. This includes the latest firmware updates, post processors and comments where you can discuss everything WorkBee with other owners.
We also have a Youtube Channel where we are constantly posting tutorials, updates and inspiration for the machine. Our friends at Vectric also have a Youtube Channel, which offers guides on how to make the most out of their CAM software.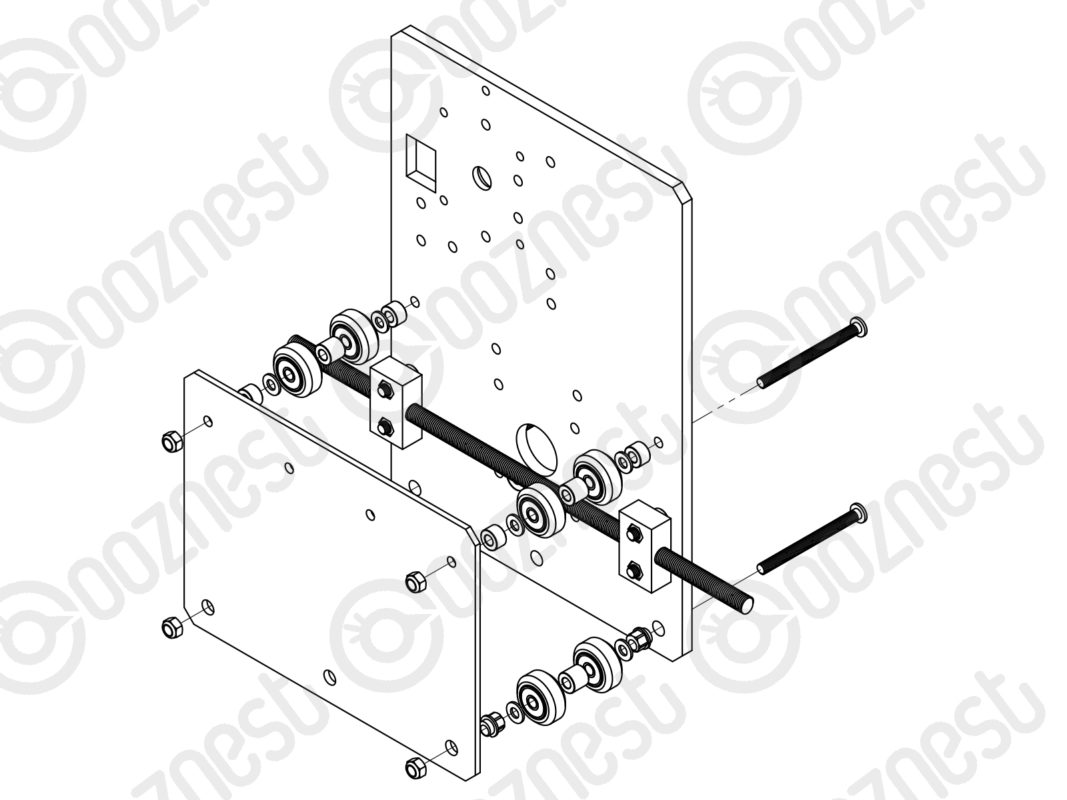 If you have any problems along the way, we are only a quick live chat or email away to provide you with the help you need.
There is a large friendly community around the WorkBee with over 4500 members in the Facebook user group. Members of the community openly share tips, tricks and projects, if you need advice the WorkBee group is a great place to get it. At Ooznest we like to take an active role in the community with many of our staff also a part of the group.
The WorkBee comes with a 1-year warranty on all the parts, so if anything is damaged or stops working, we will resolve your issue quickly. The Katsu Router has a 1-Year warranty with Ooznest and the Dewalt/Makita routers come with their own separate 1-Year manufacturer warranties.
MADE IN BRITAIN
Ooznest and the Original WorkBee CNC Machine are a proud member of the Made In Britain Directory. The WorkBee CNC Machine is designed and assembled in our UK Offices. Currently all the extrusions, wires, plastic parts and controller are manufactured in Britain, and we are continually looking to get more individual parts manufactured here as well. When you contact us you can be 100% sure you will be speaking to someone in our UK Office.

WHAT IS IN THE KIT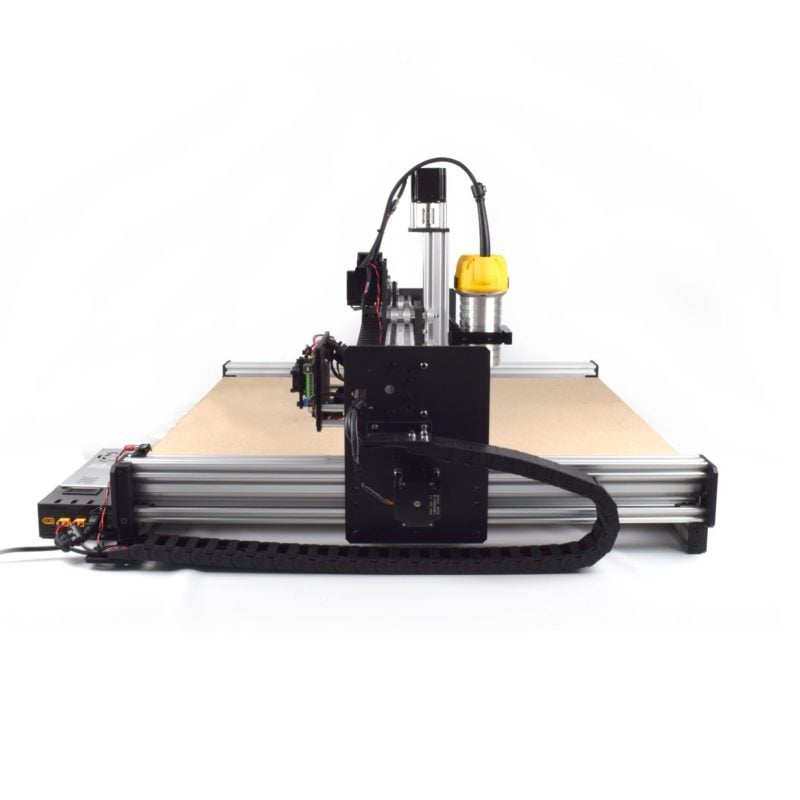 By default the WorkBee full kit includes everything needed to build a moving CNC Machine. To make it a fully functional cutting machine it needs additional items. These are as follows: Router, Cutting Bits, CAM Software, and a Spoilerboard + Mounting Hardware. Some of these can be included as additional extras.
The software to control the machine is included. The CAM software is not included, but can be bought as an extra or sourced elsewhere. Free options like Fusion360 or SketchuCam can be used with the WorkBee CNC Kit. See the 'Software' tab above to get a full overview of the software used to run the machine.
All the preliminary work is done for you. This includes cutting/tapping the extrusions, cutting the ACME screws and soldering/crimping wires. Only basic tools like allen keys, spanners and screwdrivers are needed to complete the assembly.
Neither the Seller's liability for defective products nor the quality warranty applies to machines, components or parts damaged by handling or misuse, which is in conflict with the instructions and recommendations in the official manuals and guides, or improper handling caused by unofficial modifications, such as modifications to hardware or software.
Please note we cannot offer technical support if any modifications to any part of the product have been made.
All WorkBee CNC kits are sold under the presumption that the customer and/or end-user is competent to assemble and operate the machine in a safe manner.  Ooznest ltd cannot be held responsible for any training requirements or misuse of the machine.  
By purchasing this item you have read this disclaimer and assume all liabilities.