Back in 2017 here at Ooznest we designed and started manufacturing the Original WorkBee CNC Machine . . . .and well, the response from the market was just overwhelming – and since then it has maintained being our flagship machine.
We are very proud that the WorkBee has found its way into the workshops of many makers and hobbyists, as well as finding a place in other sectors such as the NHS, Schools and Universities.
It is seeing growing popularity for businesses as it provides the perfect stepping stone into the world of CNC Machining and allows manufacturing to be brought back in-house!
The WorkBee has undergone many changes since the start, but we have never classed any of them as a 'New Release', even though they probably warranted one.
TIME FOR A NEW RELEASE
We still love our WorkBee as much as the first ever model, so we dedicate a lot of time researching, designing and testing, looking for the next improvements and advancements.
We have recently been conjuring up lots of new features and changes for the WorkBee so we thought it was about time that we released these to the world in a new model.
Introducing. . . . The Original WorkBee Z1+
The WorkBee CNC Machine we have been manufacturing since 2017, is now known as the Z1, with this new model being denoted as the Z1+.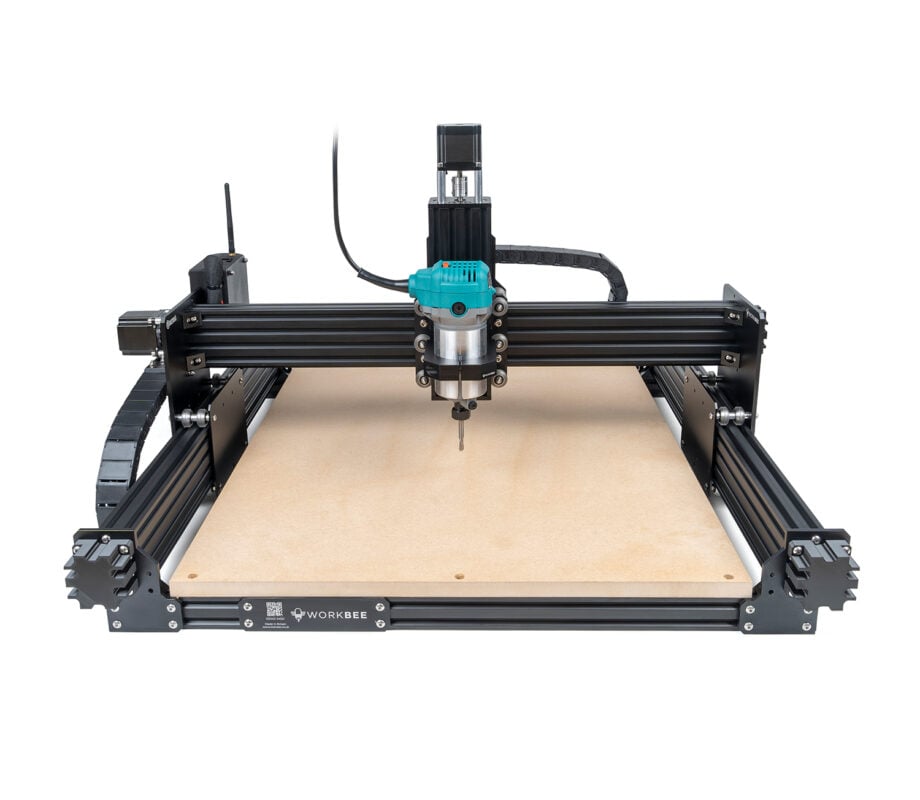 SO WHAT'S NEW?
Our aim: to make this Z1+ model better than ever before whilst still maintaining that all important affordable price tag!  We looked at feedback and the previous versions to come up with some key improvements for the Z1+.
Here's an overview of what we have changed/added for the Z1+ and keep reading for all the good details.
Power Supply
Thrust Bearings
Spoilerboard System
Assembly Manuals
Wheel Adjustment Spanner
Emergency Stop
Stainless Steel Bolts
Drag Chain Layout
Router Mount Included
Calibration Endmill
Controller Case
Firmware & Software
Cable Management
Mafell Spindle
Carveco CAM Software
As always we have tried to make many of our upgrades backwards compatible, so existing WorkBee owners can also update their machines and benefit from the new features!
POWER SUPPLY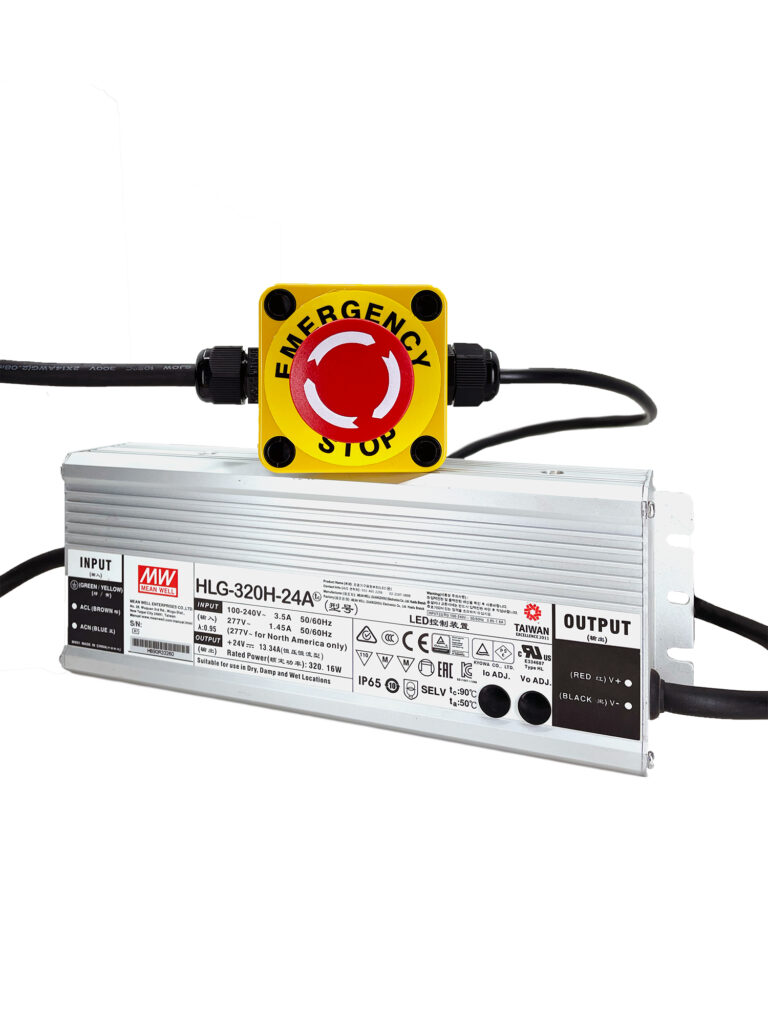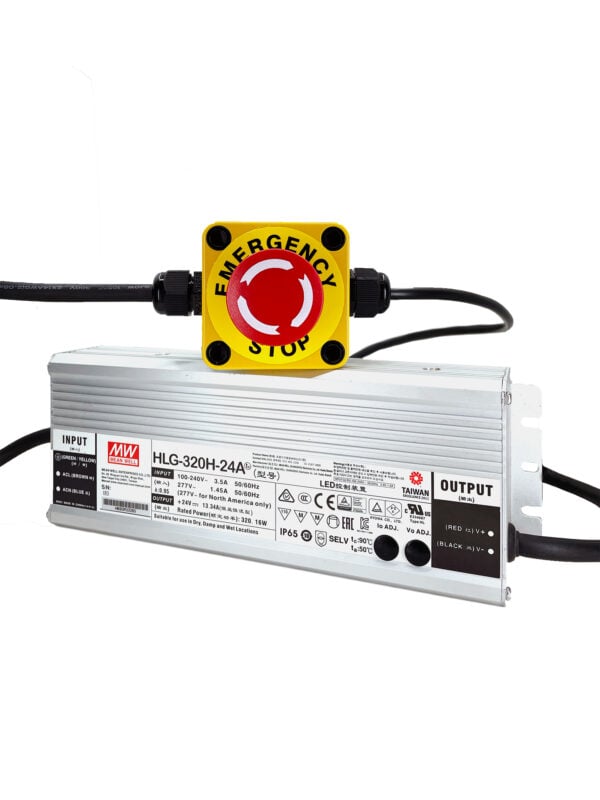 The previous Power supply was a standard LED Switching PSU, with a case bolted on, built using lots of components and was not dust rated. The WorkBee Z1+ now makes use of the mighty Meanwell HLG Series Power supply. It is a fully sealed unit, and is IP65 rated, this means it is totally dust-tight with a vacuum seal – there is no way dust is getting into this beast!
The Power supply's input range is compatible with all the standard voltage and frequencies used around the world and will automatically adjust accordingly. The input plug provided is selected when purchasing your machine, either UK, EU or US, no adaptors needed!
EMERGENCY STOP
As part of the power supply upgrade we have added an Emergency Stop Push Button for added safety. When using any CNC Machine it is important to be able to isolate the power and stop the machine immediately should something occur when in operation.
The emergency stop will come pre-assembled to the power supply and fully tested so it is ready to just wire straight into the controller. The hardware to screw the power supply and emergency stop to your workbench is also provided with the WorkBee Z1+.
The WorkBee Z1+ Power Supply and Emergency Stop combination is available to existing WorkBee owners – Get Yours
CONTROLLER CASE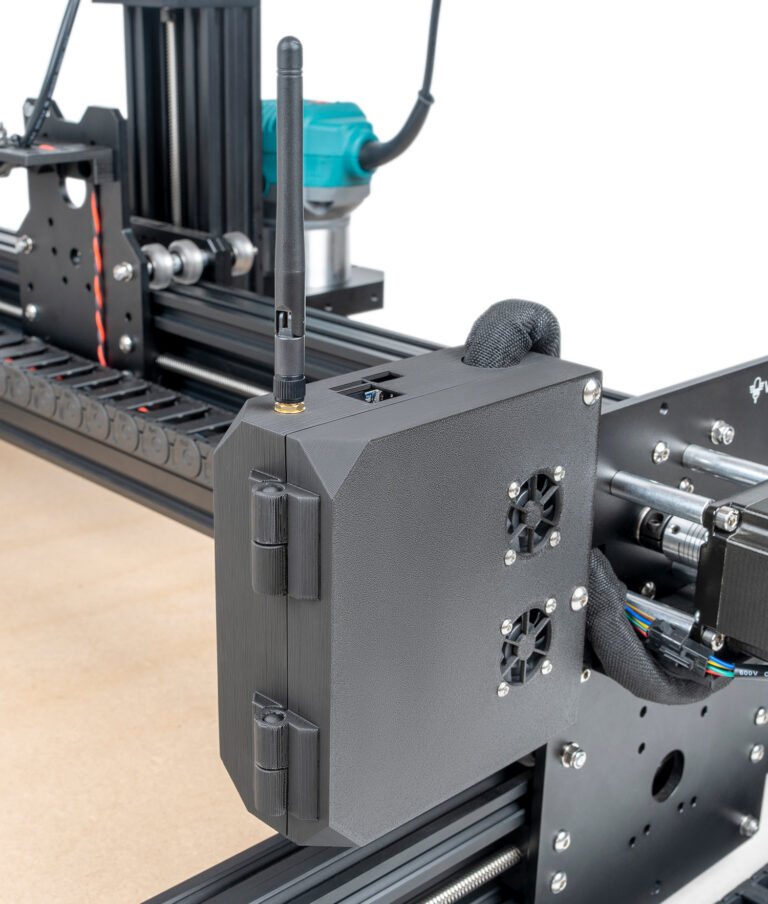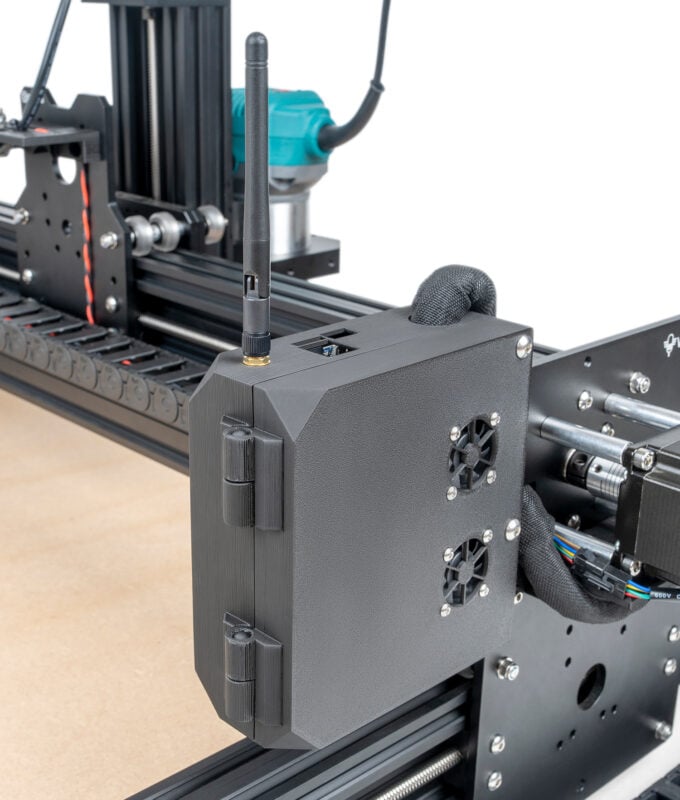 Up to now, the controller has been mounted on an open flat plate on the WorkBee. We know CNC machining can create dust and debris and whilst the robust Duet controller works well in this environment, we felt it could do with a bit of added protection from the elements. This comes in the form of the New WorkBee Controller Case.
The case has been bespoke designed for the WorkBee and Duet controller and is manufactured in-house from our own-brand tough PLA filament. The controller is mounted inside the case with a hinged design for easy access for maintenance.
We have added vents through the bottom to create a continuous flow of air while still being protective. A tidier cable running solution has also been devised for more efficient air ventilation. The new case is especially perfect for those of you that like to run the machine without Dust Extraction!
Again this is available separately should you have an older version machine you wish to upgrade!
THRUST BEARINGS
For the WorkBee Z1+ we are still using the tried and tested WorkBee Lead Screw Tensioning system, but with a little tweak – thrust bearings. From researching and testing it is not as simple as just putting the thrust bearing on top of the radial bearing and calling it a day. The new system has been developed to utilize the existing plate design and ensure the bearings are being mounted correctly.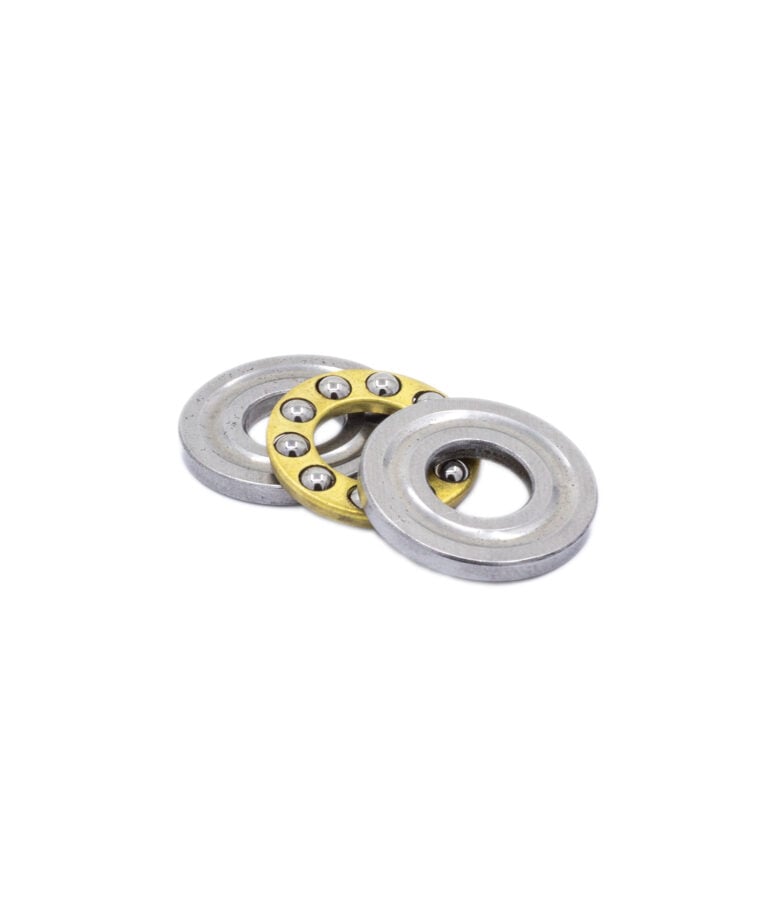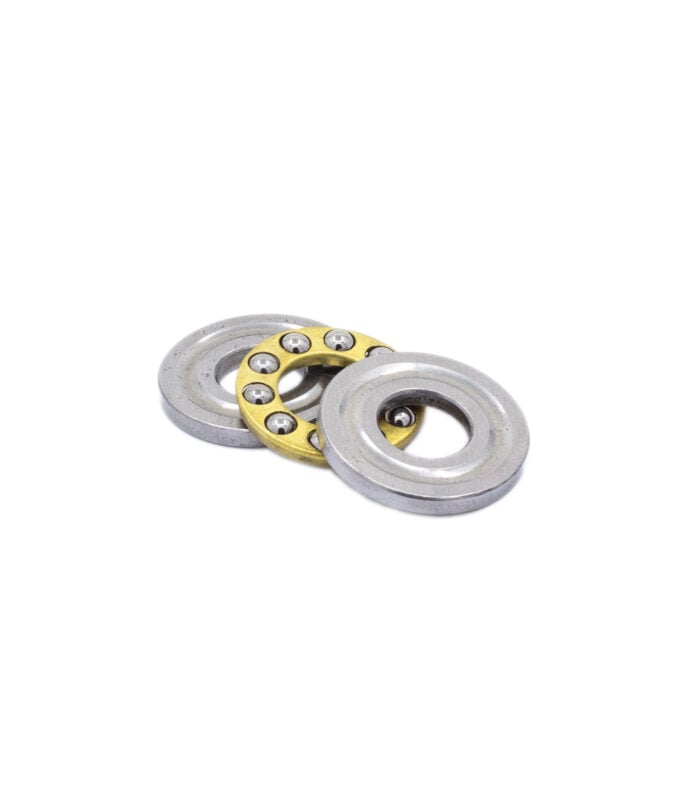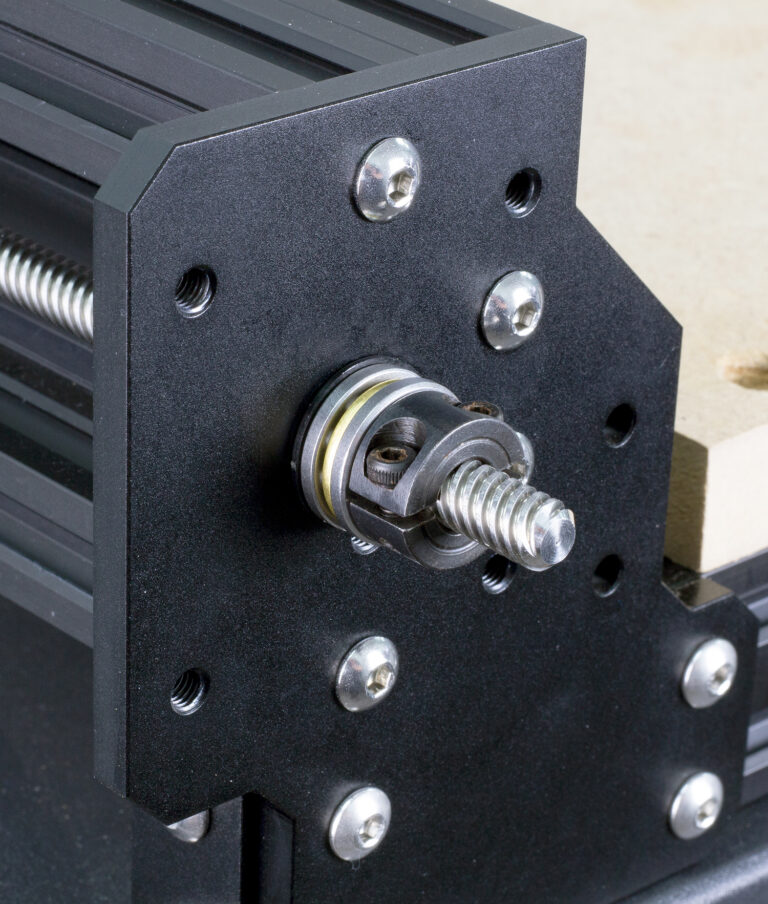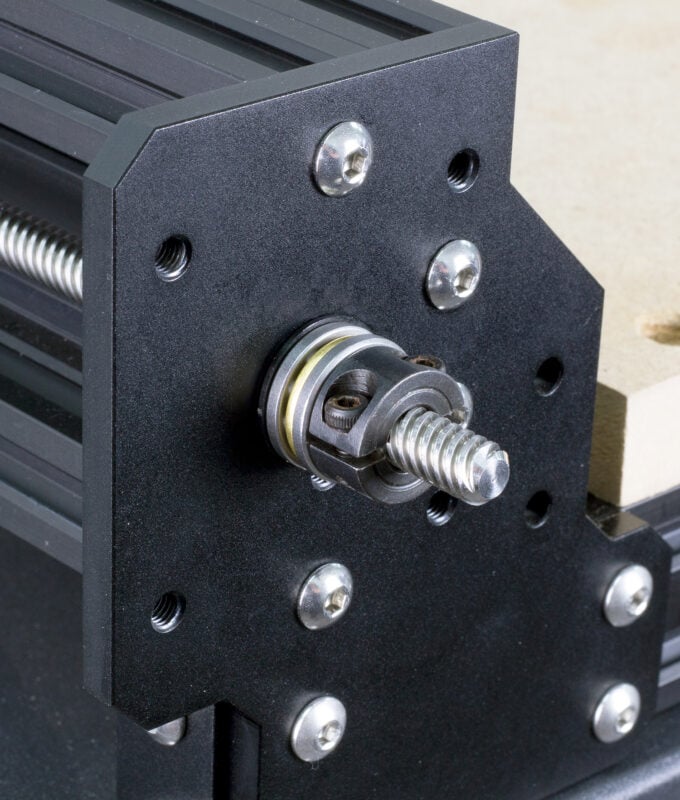 The system now uses a combination of Radial Flanged Bearings, Thrust Bearings, Thrust Bearing Surface Shoulder Washer and Rubber Bushings. With this system in place, many benefits can be found – the WorkBee Z1+ will run smoother and quieter than ever before with reductions in vibrations of the lead screws. It will also help to distribute loads, minimize forces on the flanged bearings and protect against thermal expansion meaning bearing maintenance will also be massively reduced.
This system will still make use of our handy tensioning wheel which we first designed a few years ago!
This is another update that is Available to purchase separately for existing WorkBee owners.
OTHER KEY CHANGES
Stainless Steel Bolts
Another great addition to the WorkBee Z1+ that we had to include was the use of A2 Stainless Steel Bolts – These bolts are higher quality, so they are more durable and will prolong the life of your WorkBee. Equally important, we love the contrast of the stainless steel as they really set off the sleek black anodized plates and the Ooznest/WorkBee branded laser etchings we are known for!
Firmware & Software
With the Z1+, comes an update to the latest RepRapFirmware 3.3, improvements to the system settings and an updated WorkBee Control Interface. More details on this to follow in a future blog post, but the important detail is that the WorkBee Z1+ will run better than ever before!
The new system settings have been configured, so no longer will the Dust Shoe hit the machine when starting a job!
All existing WorkBees can benefit from this update – Download and Guide will be available soon…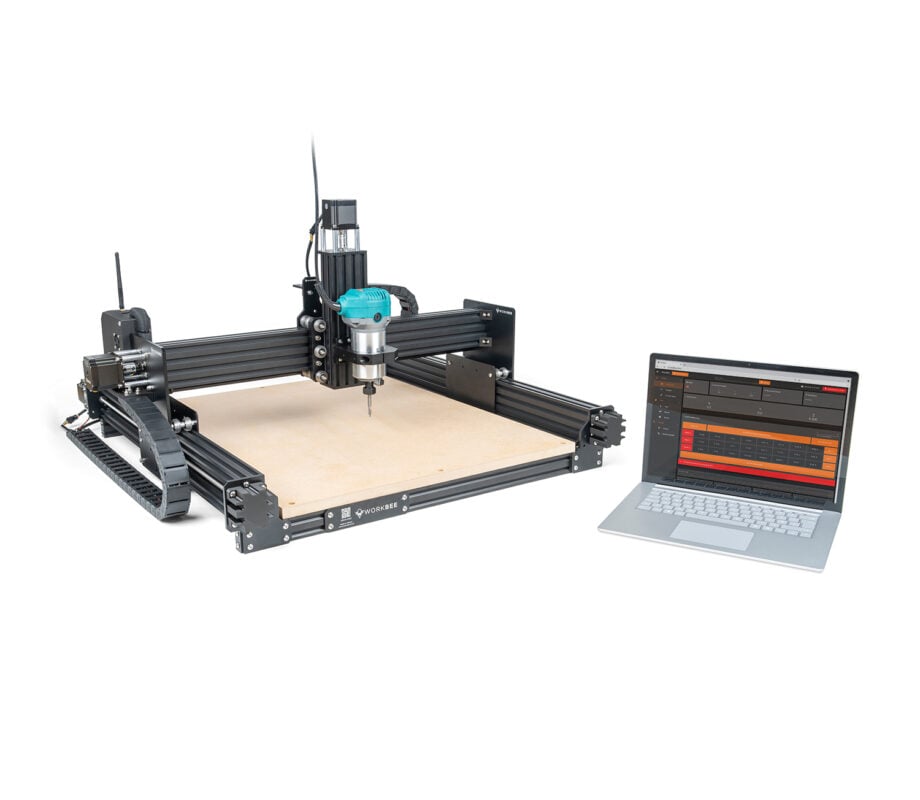 Spoilerboard System
We have revamped the spoilerboard system to replace the extrusion sandwich setup with straight up 40×40 extrusions. This will make the assembly of the machine easier and quicker. In addition, 4 x spoilerboard supports are included in all machine sizes for maximum support to minimize the inevitable movement of the MDF spoilerboard.
Drag Chains
The Drag Chains will be easier than ever to assemble adopting a one-piece design used on the X and Y-Axis. With cable running channels integrated to keep the Z-Axis Limit Switch Wire in place and other wires out of harm's way.
The Y-Axis Fixed End is now as the name suggest fixed! – directly to your workbench securing the line of travel for the Drag Chain to remain parallel to the machines movement.
Improved Cable Management – Slot covers and cable wrap are now provided to make sure the WorkBee Z1+ is as aesthetically pleasing as possible!
Assembly Changes – Refreshed assembly manuals make the build even more enjoyable and a few small, but key changes to the assembly have been made, such as reversing Y-Axis bolts to maximize the workable area.
Router Mount – You may have already seen our recent release of the brand new Original WorkBee Router Mount, and this beauty will be included with the WorkBee Z1+ as standard at a size of your choosing.
Mafell Spindle – We've added this as a new option to buy with the WorkBee Z1+ as it's a "Best In Class" router head – for the professionals out there, it is a must have!
Carveco – We have partnered with Carveco to offer Carveco Maker as a new CAM Software option. This comes on a 12 Month subscription plan as an alternative to a lifetime license.
Wheel Adjustment Spanner – An 8mm spanner is now provided to adjust the eccentric spacers on the wheels. It has been specially designed so the Y-Axis wheels can be adjusted in situ.
Calibration Endmill – A new steps/mm calibration system has been devised. A calibration endmill is provided to complete this process.
Free Endmill – To get started on projects as quickly as possible a 1/4″ Solid Carbide Square Endmill is now included as part of the kit.
Reduced Part Count – The number of unique parts to build the WorkBee Z1+ has been reduced, making assembly even easier and quicker.
FINAL WORDS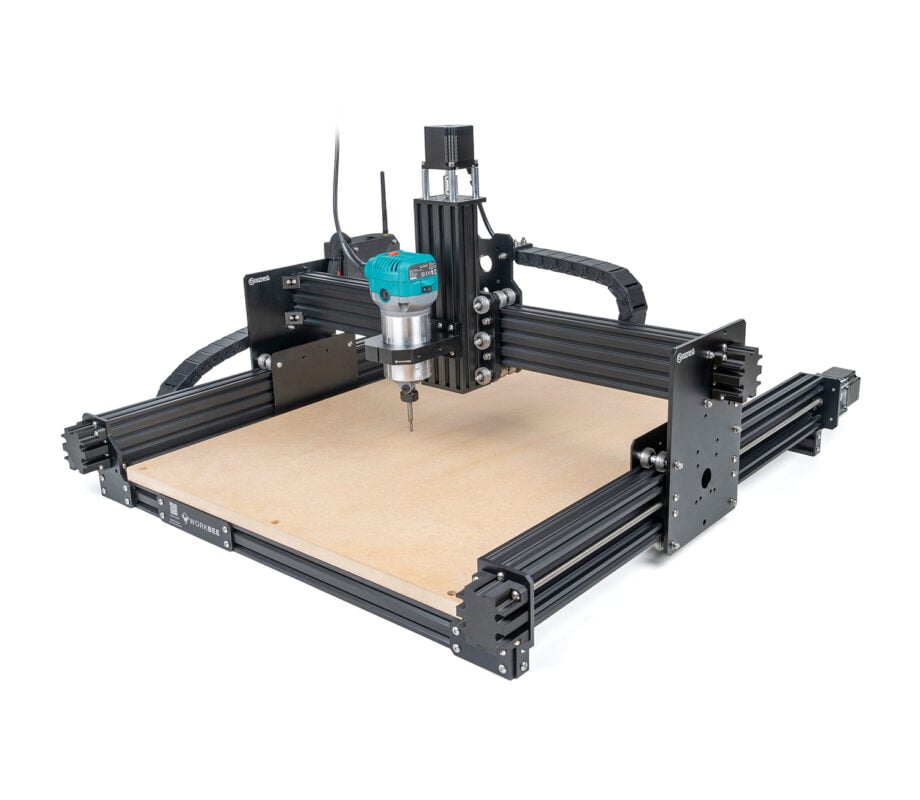 We are really happy to be releasing the WorkBee Z1+ to the world, and it should set the new standard for what to expect from a full CNC Machine kit that doesn't break the bank. Now the ups and downs of COVID-19 are behind us, Ooznest is full steam ahead with lots of great stuff to come in the future.
If you have an enquiry about the Original WorkBee Z1+ or would just like to talk CNC head over to our Help & Contact Section or Start a Live Chat
AVAILABILITY
The WorkBee Z1+ and upgrades are available to Pre-Order now – 4 Weeks
LAUNCH OFFER – 10% OFF BASE PRICE + FREE WORLDWIDE SHIPPING
ENDS 26TH SEPTEMBER 2021
We estimate they will ship the week commencing 27th September.
Upgrade FAQs
We have made the new features backwards compatible as much as possible so you can upgrade your existing WorkBee.
Some upgrades will depend on the version of WorkBee you have.
Version 2.0-2.3 compatible upgrades:
Power Supply + Emergency Stop Kit
Controller Case Kit
Thrust Bearing Kit
Firmware & Software
Version 1.0 compatible upgrades:
Power Supply + Emergency Stop Kit
Controller Case Kit – only if you have installed the Duet upgrade kit
Thrust Bearing Kit – only if you have installed the Screw conversion kit
Firmware & Software – only if you have installed the Duet upgrade kit
If you have a V1.0 WorkBee and would like to upgrade, you can contact us for more information.
If you are unsure of the version of your WorkBee please contact us with your Order Number.
What will happen to the old WorkBee Z1?
We'll continue to support and warranty the Z1 just as we always have; there won't be any changes in that regard at all.
We'll continue to make accessories compatible with the Z1 as much as possible.
We'll continue to sell any remaining stock of the Z1, after this we will only be manufacturing the Z1+
Thanks For Reading
Ryan Lock & Ryan Christy