ABOUT THE C-BEAM CNC ROUTER KIT
The C-Beam Machine is a perfect Hobby CNC to manufacturer custom plates out of wood, plastics, or even aluminium. In many projects it happens, that an off the shelf plate does not suit your needs, a C-Beam machine is the solution to this problem. A C-Beam machine offers the freedom to create the custom plates you need, right away, no long waits, no extortionate prices.
Compared to other Hobby CNC mills and plate makers on the market, the C-Beam machine is relatively in-expensive. Pair this Mechanical CNC kit with a controller, router, power supply and you have yourself a CNC milling machine for less than a £1000.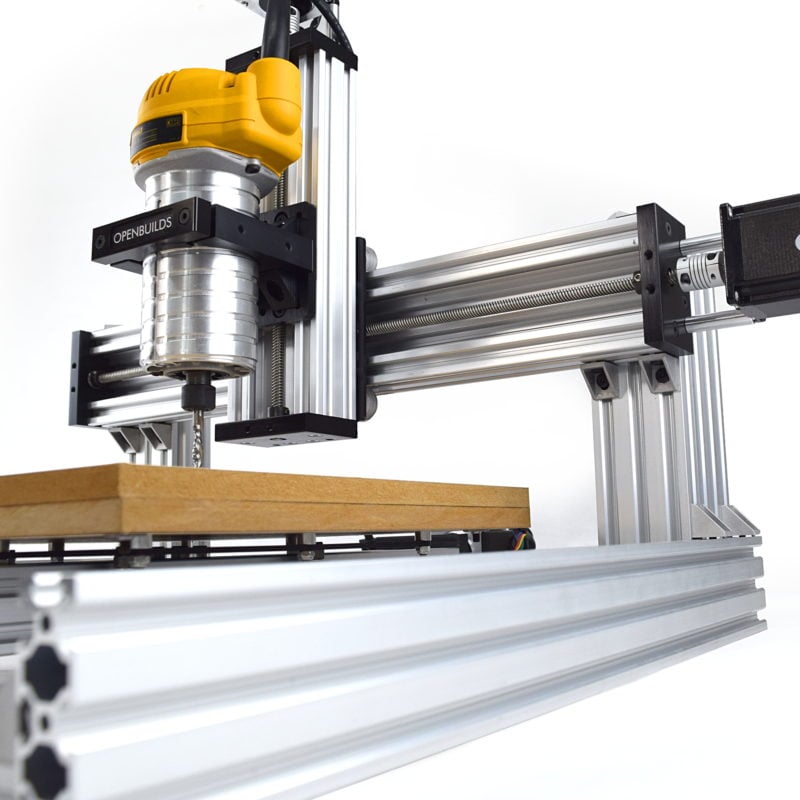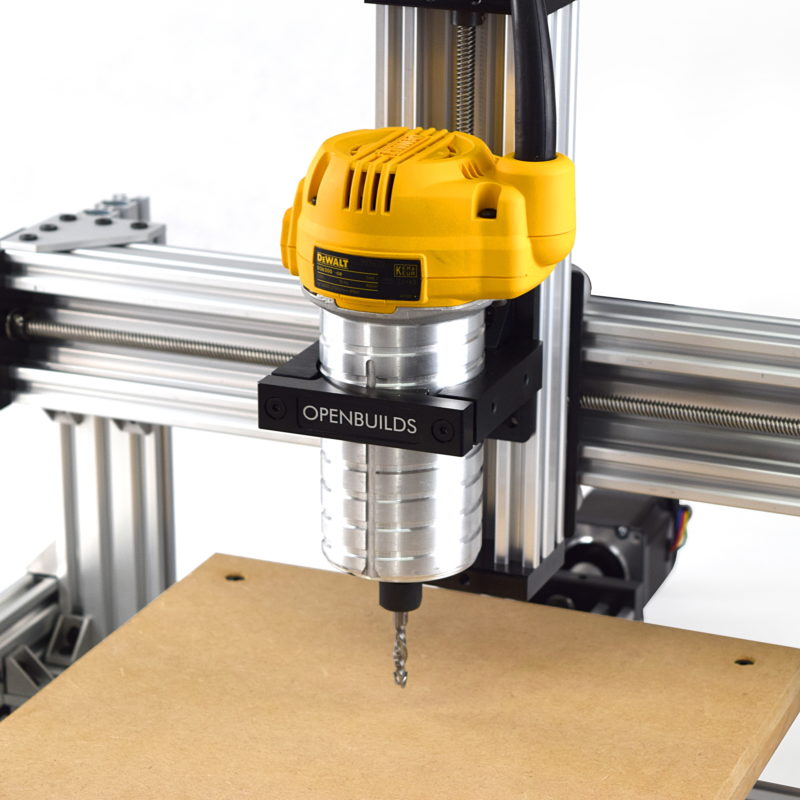 As in the name, the C-Beam machine makes full use of the C-Beam linear rail, which in turn uses the proven to work v-slot profile. Combining the C-Beam linear rail with other standard parts, allows for easy ACME lead screw linear actuators to be created. Three c-beam linear actuators are used on the C-Beam machine to drive the X, Y and Z axes. With the use of precise ACME lead screws, and anti-backlash nut blocks, highly accurate parts can be manufactured with the C-Beam machine.
assembly
Mark Carew from Openbuilds made an excellent first person view assembly Video for the C-Beam machine. His video goes meretriciously through every step of the build and provides personal insight which you just can't get from a written manual.
To make the CNC kit build even easier, we systematically bag the parts and label them with their name, quantity and most importantly what section of the build they are used on. We have had great feedback using this system on our other kits, and it has proven to be well worth the time.
If you have any problems with the build, support is available in abundance. The C-Beam machine was conceived on the Openbuilds website, and there is a dedicated Build setup for this machine where you can get help from community members and even Mark himself. Alternatively we are available by phone or email for any issues or questions you may have.
what is in the kit
Our C-Beam mechanical kit includes everything needed to complete the mechanical portion of the C-Beam machine. In addition to this we have the option to include 3 x NEMA23 Stepper Motors. You can be confident on the quality of the parts we supply in the CNC kit because they are all genuine Openbuilds. The main components not included, which are needed to get the C-Beam machine cutting and running is MDF boards, Power supply, Controller board, and Router.
The C-Beam and V-Slot linear rails are pre-cut and tapped where needed. And the ACME Lead screws provided are to the correct length.
In the assembly video, M5 self-tapping screws are used, these are perfectly fine. However users have found that using bolts provides a stronger, longer lasting connection. Because of this, in our kit we provide the hardware to use self-tapping screws Or bolts.
Please note the Dewalt Router and MDF Boards seen in the pictures are NOT included with the kit. The router seen in the pictures is a Dewalt D26200 (UK) or DWP611 (US) and is highly recommended. For the MDF boards you will need 2 x 305x305x12mm boards. The hardware to mount the MDF boards is included in the kit.
Technical Specification
Footprint (X x Y x Zmm)
540 x 617 x 501
Cutting Area
(X x Ymm) 305 x 280
(Z) 160mm Travel – 31.75mm Working depth
Frame
CNC Machined Aluminium Plates with V-Slot Extrusions and Cast Corners.
Motors
NEMA23 Stepper Motors X,Y & Z.
Motion
X/Y/Z – 8mm Tr8*8 4 Start ACME Lead Screw
credits
We would like to give a big thank you to Mark Carew and Openbuilds part store for designing an excellent Hobby CNC Mill and V-Slot system, which they have allowed to be freely shared, remixed, and sold. We would also like to thank the Openbuilds and wider community for sharing their upgrades to make the C-Beam Machine even better.