ABOUT THE WORKBEE CNC MACHINE
The WorkBee is our latest CNC Machine and is a culmination of all our experience, feedback, and suggestions from selling the OX CNC Machine over the past 2 years. The WorkBee is capable of accurately cutting foams, woods, plastics or aluminum at depths greater than 25mm to 0.2mm accuracy or greater. With a WorkBee CNC Kit you can manufacture functional engineering parts, toys, signs, or whatever you can imagine without leaving the workshop.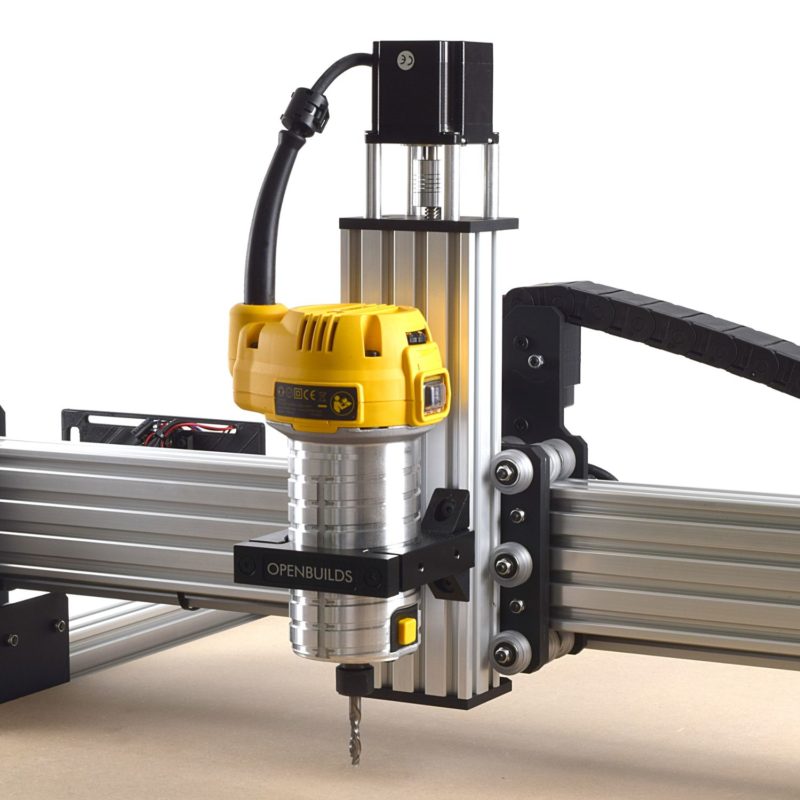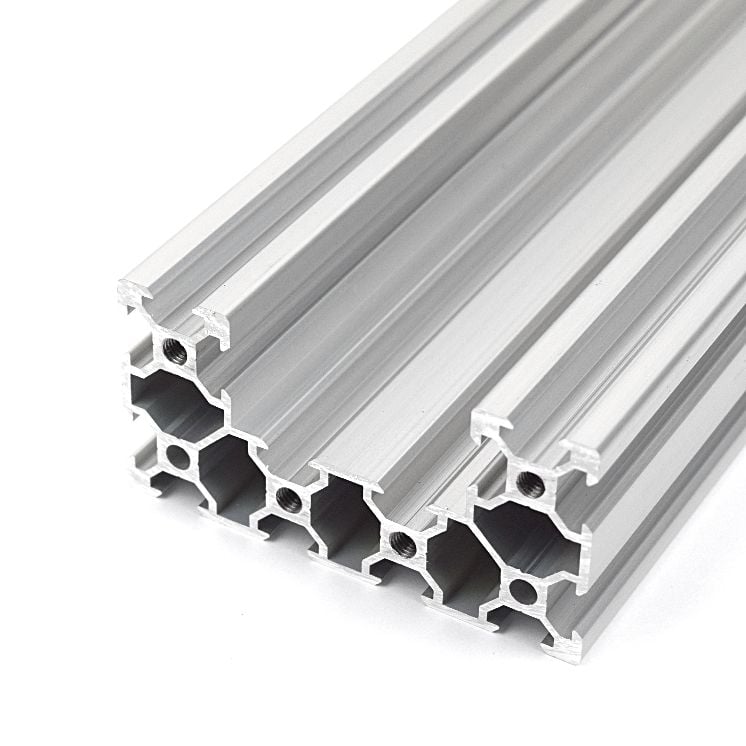 The WorkBee makes full use of the V-Slot Extrusion system. On the X and Y Axis C-Beam extrusions are used. Not only is using the C-Beam beneficial to strength, but it also allows the drive systems to be concealed from debris. On a screw driven WorkBee CNC Kit, the screws are inside the 'C' channel, therefore shielded from the cutting area. With a belt setup, the Y-Axis belt are also inside the 'C' channel shielded from debris, the X-Axis belt isn't shielded, but as it is above cut area this isn't of concern.
The WorkBee CNC Machine uses a total of 48 x Xtreme Solid V Wheels. The Xtreme wheels are manufactured from super hard polycarbonate, this reduces wheel compression, and keeps wear to a minimum. The plates are manufactured from 6mm aluminium, and have a protective anodised coating. The plates have been designed completely from scratch, and have been carefully thought about in terms of function, usability, and ease of assembly.
DUAL DRIVE SYSTEM
The main request we got for the OX was for a lead screw driven version. The WorkBee CNC Machine has been designed from the ground up to incorporate this and more.
One issue with switching to a Screw driven system is that it would be limited in size to 1000x1000mm. This size limitation was not acceptable, so we have dual designed the WorkBee so it can be screw or belt driven. If the WorkBee CNC Kit is belt driven it can be made larger than 1000x1000mm. The WorkBee CNC Machine can be converted between the two, as the overall design is exactly the same for both.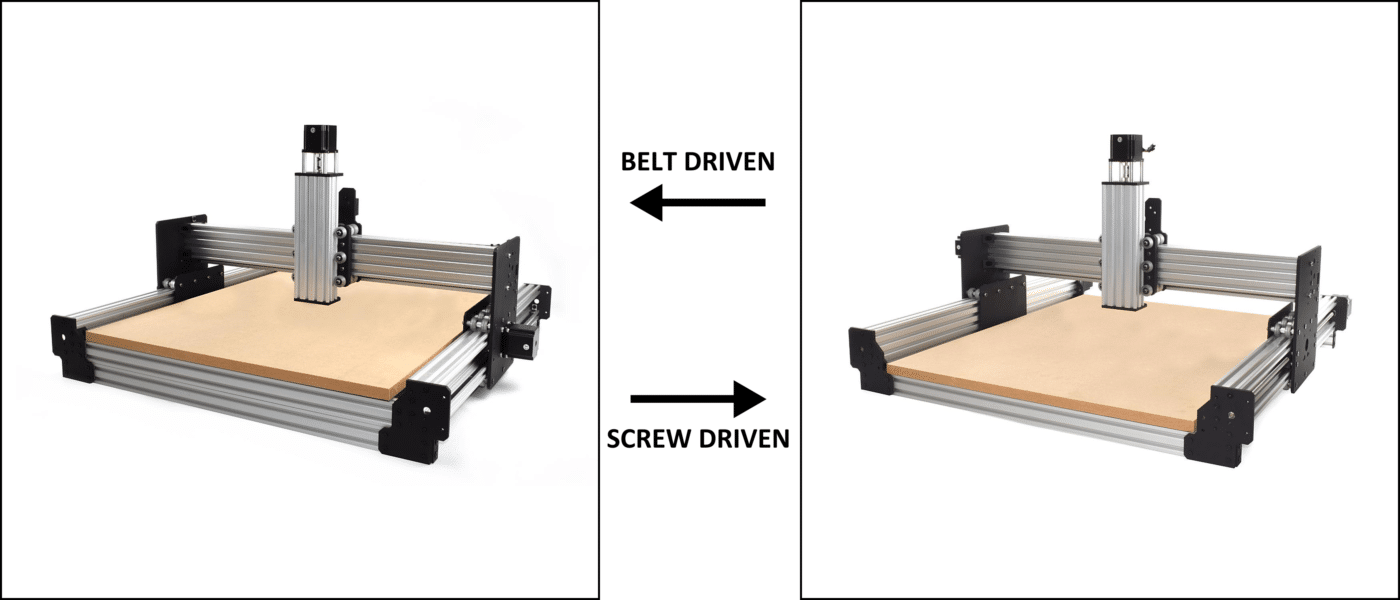 The WorkBee CNC also has two different spoiler board configurations included in each kit. One for shallow work up to 27mm deep, and a lowered setup up to 47mm deep. Having this option is beneficial, if the plan is to only cut thin materials, it is a waste of rigidity to have the Z-Axis reach down more than needed. The Screw driven version, right image above, shows the lowered configuration.
THE FULL KIT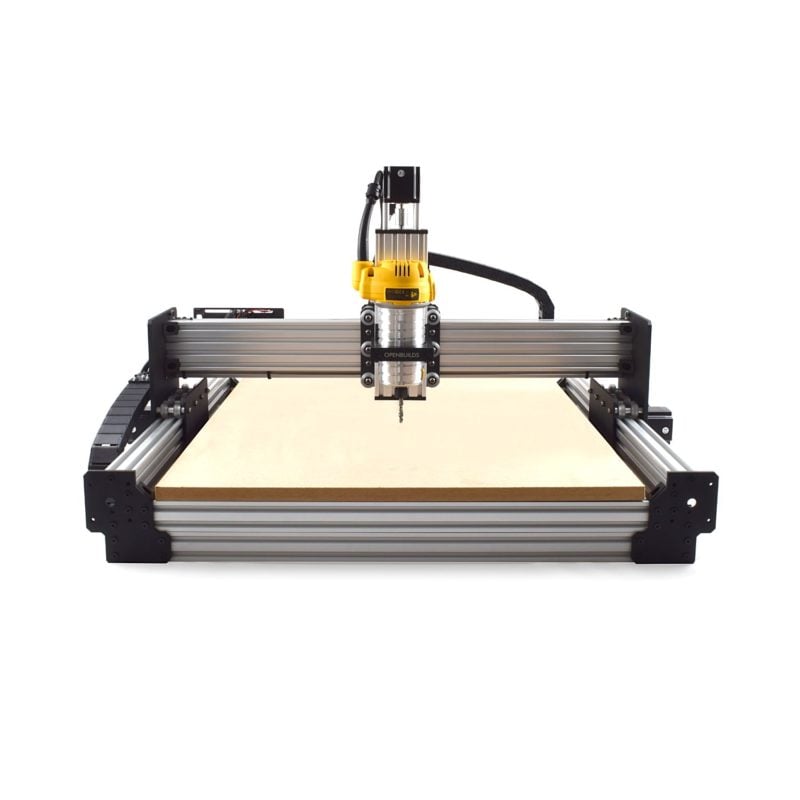 The WorkBee full kit includes everything you need to build a working CNC Machine apart from the spoiler board. The CNC Kit makes use of the extremely powerful Duet 32bit controller. The Duet is a fully featured motion controller, it comes equipped with 5 beefy TMC2660 stepper drivers with enough power to run the 175oz NEMA23 Stepper motors included with the CNC Machine. The Duet paired with the included 24V 350W Power supply and Electronics cooling mounts, ensure for a reliable machine that can easily complete them super long jobs. For easy repositioning three endstops are included, one for each axis, and their corresponding mounts and wires.
For safety, good cable management is essential on a machine like this, and we have it covered. The WorkBee CNC Machine comes with a complete cable carrier system for the X and Y-Axis.
The optional router mount for the WorkBee is designed to be compatible with the Dewalt 26200, Bosch Colt, or any other 71mm outer diameter router.
For information on the extra options, see below.
EASE OF ASSEMBLY
We like to think we have made a name for ourselves by creating excellent assembly manuals for our machines. The manuals provided with the WorkBee CNC Kit are no different. The WorkBee CNC Machine comes with a printed booklet that cover the mechanical assembly and our new Learning Portal covers the rest. We also have a Youtube Channel where we are constantly posting tutorial videos on using the machine.
If you have any problems along the way we are a quick phone or email away to provide you with the help you need.
As the WorkBee is an Opensource CNC Machine their is a large community around the WorkBee with user groups on Facebook, Google & Openbuilds.
The WorkBee comes with a 1 years warranty on all the parts, so if anything is damaged or stops working, we will send a replacement out quickly.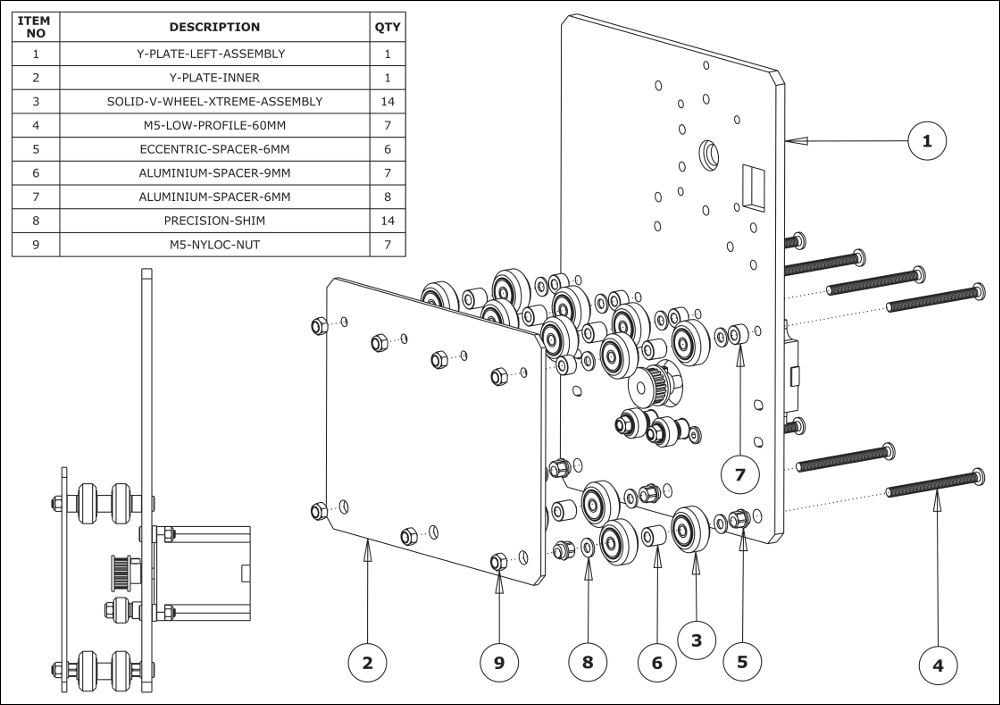 MADE IN BRITAIN
Ooznest and the WorkBee CNC Kit are a proud member of the Made In Britain Directory. The WorkBee CNC Machine is designed and assembled in our UK Offices. Currently all the extrusions, wires, plastic parts and controller are manufactured in Britain, and we are continually looking to get more individual parts manufactured here as well. When you contact us you can be 100% sure you will be speaking to someone in our UK Office.

WHAT IS IN THE KIT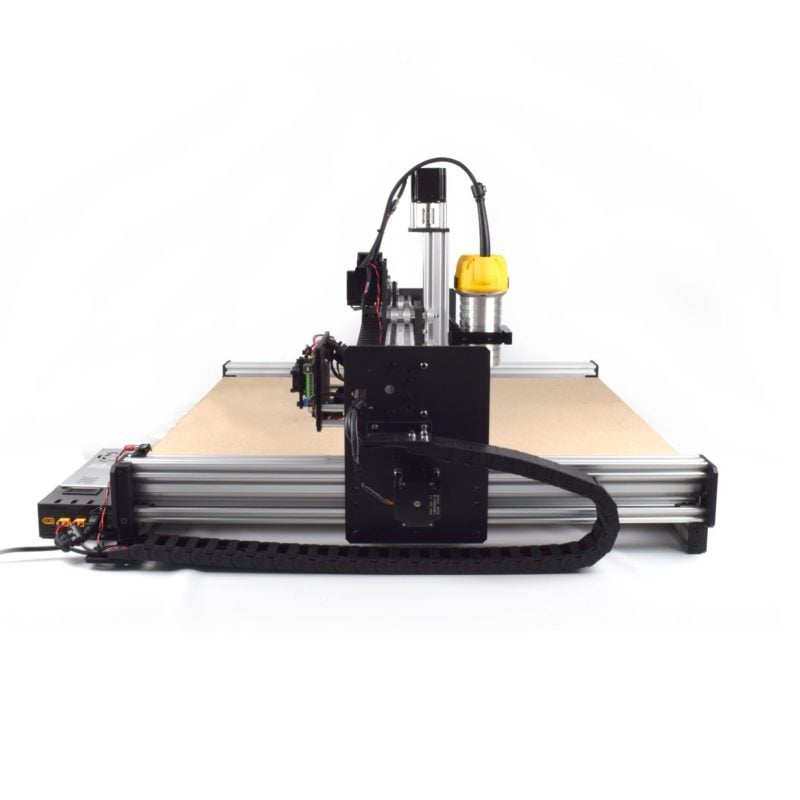 By default the WorkBee full kit includes everything needed to build a moving CNC Machine. To make it a fully functional cutting machine it needs additional items. These are: Router, Cutting Bits, CAM Software, and a Spoilerboard + Mounting Hardware. Some of these can be included as additional extras. Please see the section below.
The software to control the machine is included. The CAM software is not included, but can be bought as an extra or sourced elsewhere; free options like Fusion360 or SketchuCam can be used with the WorkBee CNC Kit.
See the 'Software' tab above to get a full overview of the software used to run the machine.
All preliminary work is done for you. This includes cutting/tapping the extrusions, cutting the ACME screws, soldering/crimping wires. Only basic tools like allens keys, spanners and screwdrivers are needed to complete the assembly.
Multiple sizes of the WorkBee CNC Machine are available starting at 750x750mm. With a 750mm X-Axis two spoilerboard support extrusions are included.
Sizes with an 1000mm X-Axis include three spoilerboard supports extrusions.
Sizes with an 1500mm X-Axis include 4 spoilerboard supports.
EXTRA OPTIONS
Router Mount
By default the WorkBee doesn't come with a router mount. The Z-Axis extrusion is 80mm wide, with 4 slots at 20mm spacing, to mount whatever attachment you want, may it be a Spindle, Laser, or something else. The maximum recommended weight for a spindle or router is 3kg.
There is three options for the Router Mount. The first is the router mount only, this is a solid aluminium mount designed to work with any 71mm outer diameter router. This includes all the hardware needed to mount it to the machine. (Please note it does not fit the new Bosch Colt Model GKF125CE, the 1.25HP Model, as it has a 72.2mm OD)
The second option includes the router mount above, plus a DeWalt D26200 as seen in the pictures. This is a 900W Input (620W Output), 16000-27000rpm manual speed compact router, with a 1/4" Collet. Please note we only supply the 240V 3 Pin UK Plug Version.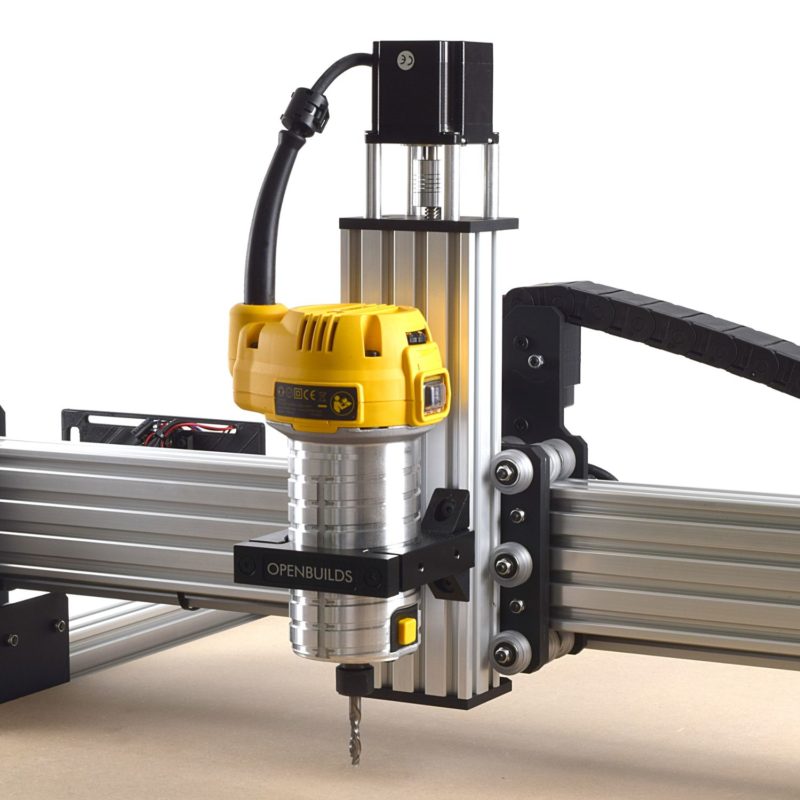 The third option includes the router mount, DeWalt 26200, and an End Mill Kit. The End Mill Kit consist of 7 end mills, they are 1/4″, 1/8″, 1/16″ end mills in both square end and ball end, and a 90 Degree Engraving Bit. A 1/8″ collet for the Dewalt 26200 is also included.
The same options above are also available for the Makita RT0700CX4 palm router, this is a slightly smaller router, therefore adapters will be provided. The Makita is a 710W Input, 10000-30000rpm manual speed compact router, with a 1/4" Collet. Please note we only supply the 240V 3 Pin UK Plug Version. If the mill kit is chosen a 1/8″ Makita collet will be supplied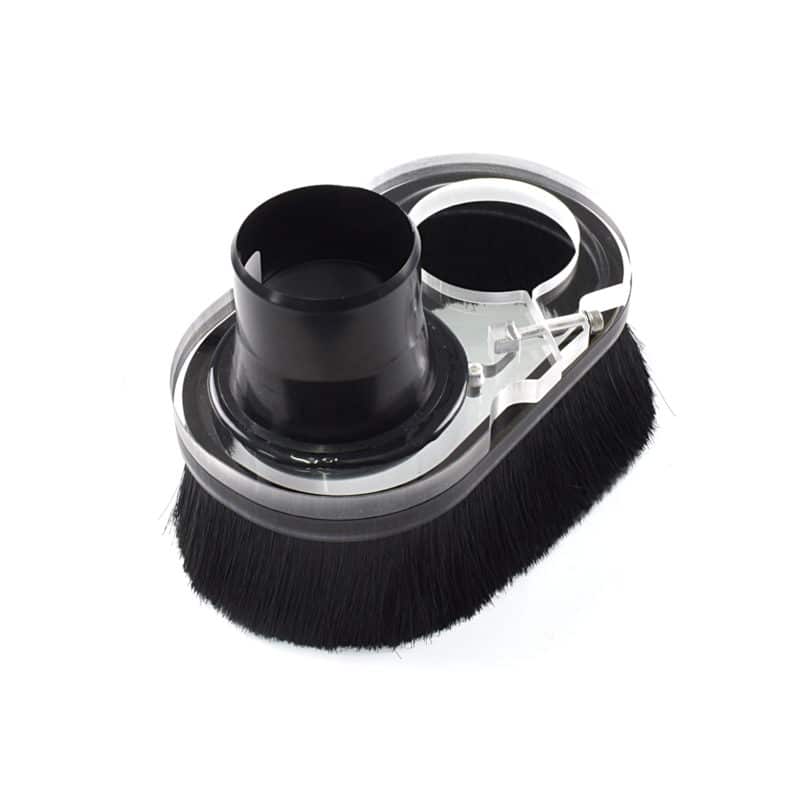 Dust Shoe
CNC Machining is naturally a messy job, containing and removing the cutting debris with a dust shoe will keep the machine clean and allow it to run much smoother. A cleaner machine will also mean the mechanical parts will wear significantly less. The dust shoe will also create a vacuum environment for the cut, removing chips and thus removing heat, this will improve cutting performance and increase the milling bit life span. If you are considering to use the WorkBee CNC Kit in a production environment we would highly recommend using a dust shoe.
Our split-shoe is specially designed for smaller CNC Machines like the WorkBee, and will clamp around any 71mm outer diameter router, this includes the DeWalt D26200. It has a clear arcylic plate that allows the cut to be viewed during operation, and a 2" brush that magnetically attaches to the upper plate. The removable brush ring allows for quick and easy access to change the bit. The vacuum outlet is 2-1/2".
Software
All Software Bought With The Machine Is Discounted By 5% From Its Normal Price.
The WorkBee has the following software work flow: CAD → CAM → G-Code Sender.
The G-Code sender takes the file produced from the CAM Software, and sends it to the machine via Ethernet Or Wifi. In addition you can also jog the machine, enter manual commands, and configure the firmware within it. The WorkBee uses Duet Web Control, this is browser based software and the manual covers setting up the machine with this software and how to use it. Whatever software option you choose (Even 'None') this is included.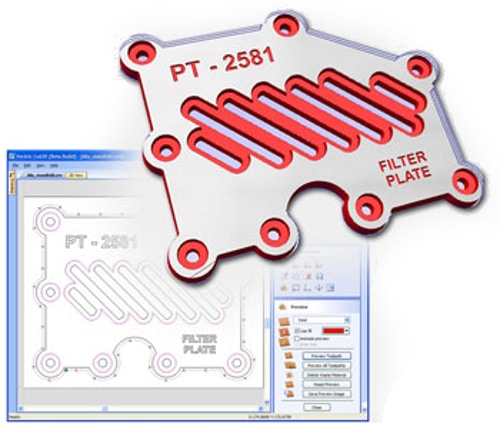 CAM Software produces G-Code tool paths from your CAD designs. We do not provide CAM Software with the machine, unless chosen as an option. We have tried nearly all the offerings available, and have settled with the software made by Vectric. It is powerful software, but very easy to use. Please see the tab 'Software' above to see a breakdown of the different versions available. However the WorkBee CNC Kit is fully compatible with any CAM Software which can export G-Code, this includes free ones like Fusion360 and Sketchucam.
Connectivity
The Duet has two connectivity options either Ethernet or Wifi. They both cost exactly the same. Ethernet is good if your factory, shed, workshop or garage hasn't got a wifi connection. Wifi is the perfect option if you want to control your CNC Machine from where ever you are, may it be your bedroom, lounge, or kitchen. Simply log into the browser control software and it will auto connect. As the software is browser based, control is also possible via a Smartphone.
Please note it is not possible to change between the two once you have received your machine. To change from one to the other will require a new controller.
A USB connection is available via both options, however this is only used to setup the machine.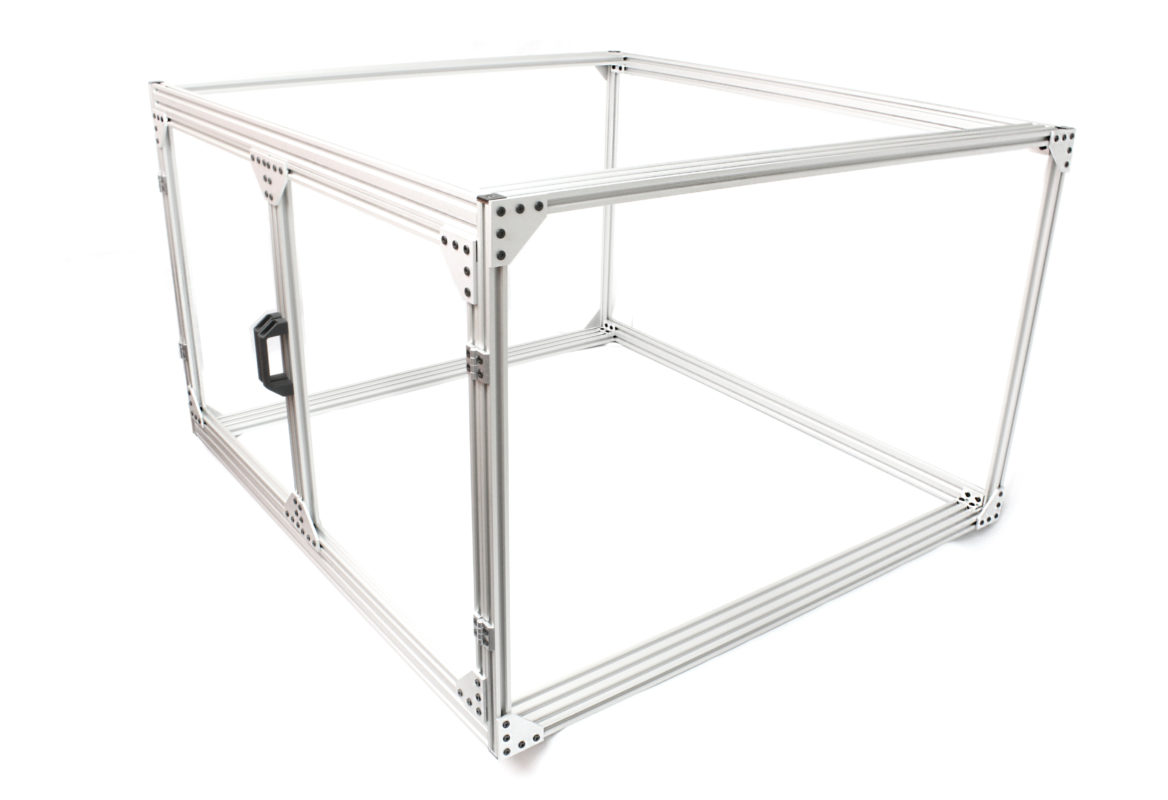 WorkBee Enclosure
CNC Machines are inherently noisy and dusty which makes a dedicated workspace for a WorkBee CNC Machine required. Our WorkBee Enclosure aims to solve this issue.
Designed with an aluminum framed extrusion, it allows 6mm thick panel material to be slotted into the extrusion on all sides. With 6mm Perspex and a Dewalt D26200 at full RPM you can expect a decibel reduction of 18db.
The enclosure is  available for machines sizes 750x750mm, 750x1000mm and 1000x1000mm. WorkBee Enclosure can be purchased here: https://ooznest.co.uk/product/workbee-enclosure/
Technical specification
SIZES
Frame Size
750 x 750mm
750 x 1000mm
1000 x 1000mm
1000 x 1500mm
1500 x 1500mm
Working Area
550 x 520mm
550 x 770mm
800 x 770mm
800 x 1270mm
1300 x 1270mm
Z Height
54mm Or 94mm Travel, 27mm Or 47mm Workable depth, with a 12mm spoilerboard. The spoilerboard supports have two height configurations, these are the maximums for each configuration.
A full list of the WorkBee critical dimensions can be found here: https://learn.ooznest.co.uk/
Motion
Drive System – ACME Lead Screws Or GT3 Timing Belts
Linear Guides – Polycarbonate wheels on anodised C-Beam V-Slot Extrusion.
Motors – NEMA23 175oz Stepper Motors (X, Y & Z)
Accuracy – 0.05 – 0.10mm (Screw Driven) Or 0.10 – 0.20mm (Belt Driven)
ELECTRONICS
Controller – Duet 32bit ARM Controller, RepRap Firmware, Dual Y-Axis Stepper Drivers.
Power – 24V 350W Output, Switchable 110-220V Input.
Software – Duet WebControl, browser based.