uStepper S solves a very simple problem which many makers come across, the ability to easily control a stepper motor. Up until now the solution for a stepper motor controller was to use an Arduino with messy wiring to an external driver, this is where uStepper comes in and offers much much more.
uStepper S is an ultra compact stepper motor controller board, it is Arduino compatible with a built in stepper driver. The uStepper S can be mounted directly on to the back of a NEMA17 stepper motor or NEMA23 (With some additional hardware). In addition to this it also has a 16bit rotary encoder, this allows absolute position tracking of the motor shaft making missed stepped detection possible. The uStepper also has a built in temperature sensor next to the stepper driver, allowing for continuous temperature monitoring. The uStepper S is an ideal stepper motor controller to solve all your stepper motor needs.
To simplify stepper motor control even further an Arduino library is available for uStepper which provides functions for all the main features.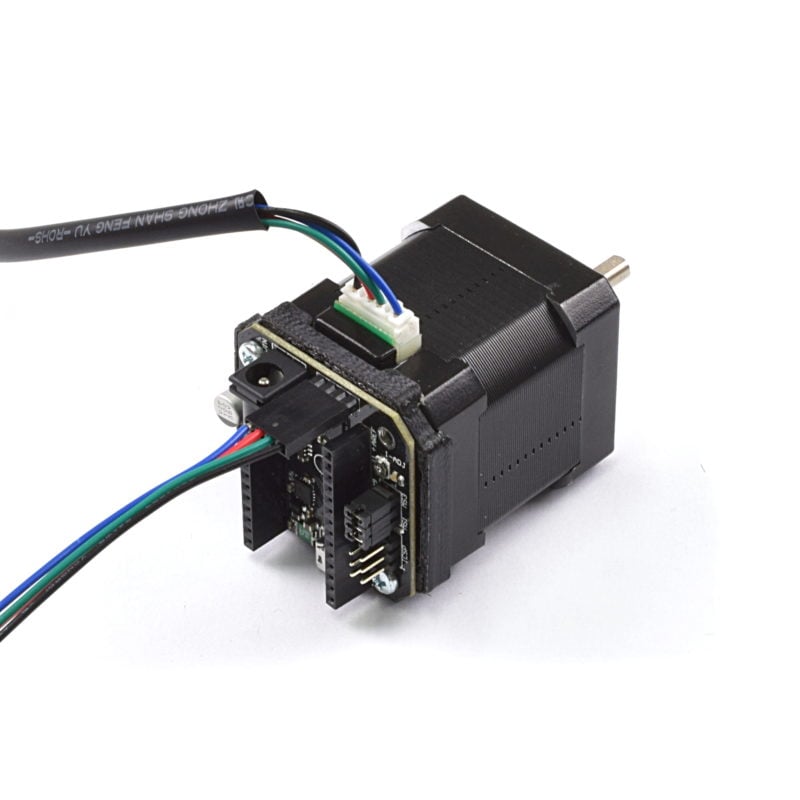 ROTARY ENCODER
A neodymium magnet attached to the back of the motor shaft, with a magnetic encoder chip, allow for north/south pole tracking of the magnet. With this information, the angle of the stepper motor shaft can be determined. The encoder has a 16bit resolution, so the shaft position can be tracked in steps of 1/65454, this corresponds to a resolution of 0.0055 degrees. Because the magnet and encoder chips are fixed, the measured shaft angle will not be reset during power cycles. This enables the uStepper controller to have the ability to perform closed loop regulation of the stepper motor position.
Many applications use RC Servos for their actuators, uStepper with it's rotary encoder can replace RC Servos with no mechanical wear that can effect the measured position.
PERIPHERALS
The uStepper S has a huge amount of I/O pins available, this allows it to be expanded in so many ways! SPI, UART and I2C interfaces are all available, with the I2C already having the required pull-up resistors.
12 I/O pins are available for expansions, 2 can be used for external interrupts, and 5 can generate PWM Signals. In addition 3 analog pins are available, allowing the processing of external analogue signals using the ADC feature of the microcontroller.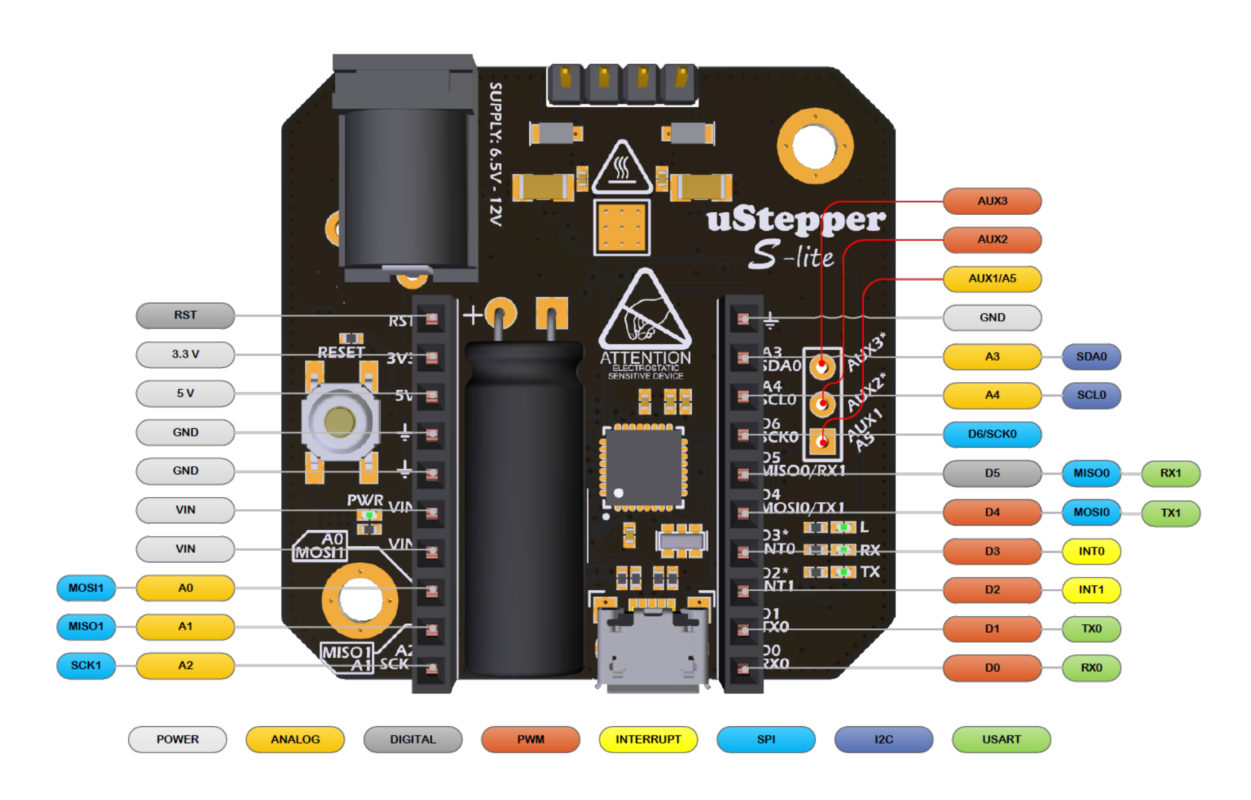 STEPPER DRIVER CHIP
The uStepper S uses a TMC5130 Driver. It provides superb noiseless and smoother operation. The TMC5130 has a massive 1/256 microstepping with interpolation. This will significantly reduce any resonance generated by the stepper motors and insure the smoothest possible operation.
FEATURES
Compact design, NEMA17 and NEMA23 Mountable.
Arduino compatible, programmable using an Arduino IDE.
USB Interface.
Voltage supply 8-42V
Integrated TMC5130 stepper driver. Up to 2.5A Peak.
Stepper driver temperature monitoring.
16bit magnetic rotary encoder.
HARDWARE SPECIFICATION
Microcontroller: ATmega328P (16 MHz clock speed)
Input voltage: 8-42V
I/O: 5V
Digital I/O pins: 12 (5 of which provide PWM capability)
Analog I/O pins: 3
Up to 2.5A stepper drive current, potentiometer adjustable.
Up to 256 x Microstepping (Interpolated)
16-bit rotary encoder resolution
WHAT IS INCLUDED
uStepper S Controller Board
NEMA17 Magnetic Mounting Hardware
NEMA17 Fixed Mounting Hardware (62oz Stepper Motor Only)
Neodymium Magnet for Rotary Encoder
(Optional) NEMA23 Stepper Mounting Bracket
uStepper only comes in the mounted Screw Terminal version.
Stepper Motors can be bought here: Stepper Motors