Note: This kit is included in our mechanical & full kit.
The ooznest OX CNC Machine Kit is based on the OX CNC Machine designed by Mark Carew of Openbuilds (www.openbuilds.com/builds/openbuilds-ox-cnc-machine), and incorporates many upgrades from the Openbuilds community. Mark Carew based the OX on the Routy, which was in turn based on the Shapeoko.
The OX CNC Machine makes full use of the excellent V-Slot Extrusion system. The Y-Axis uses the biggest size available, 20 x 80mm, and the X-Axis has Dual 20 x 60mm's plus an extra 20 x 40mm for added rigidity. Our standard kit uses 750 x 500mm extrusions, however the machine can be easily upgraded to a maximum of 1500 x 1500mm using the largest V-Slot Extrusion lengths.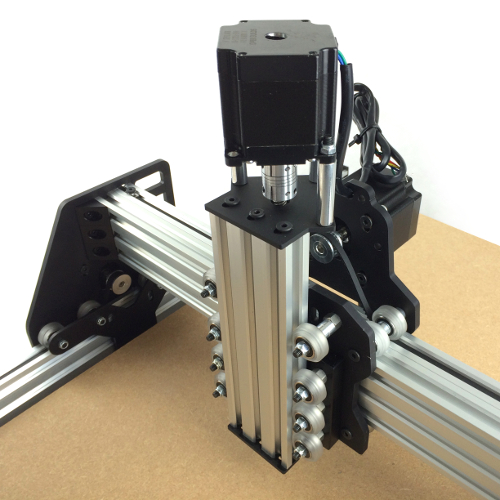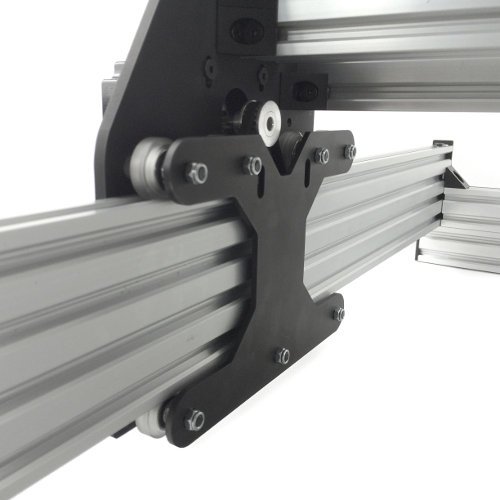 The OX uses a total of 30 Solid V Wheels. These can be either Delrin's or the Xtreme Polycarbonate's, we recommend using the Xtreme to reduce flex and wear.
The plate designs are based on the originals by Mark Carew. However we have added our own touches to increase the performance and design of the machine. On the Y-Axis we have added an inner wheel brace, which reduces the movement of the wheels, and also helps to shield the wheels from cutting debris. Plates have also been added or modified to completely cover any bare extrusion ends. All the plates supplied with kit are manufactured from 6082 Aluminium. The plates are then shot blast and anodized in matt black, to give a very clean finish.
EASE OF ASSEMBLY
Mark Carew made some excellent build videos for the original OX, these videos cover the full mechanical build and provide a first person view into the construction of the original OX.
These videos alone could have been enough to complete our kit. However we wanted to make it even easier. Therefore we have made a complete written instruction manual, with IKEA'eske assembly diagrams. Using our written manual with Mark's videos, should make the build a breeze.
If you have any problems along the way, we are available by phone or email to help you. Also the openbuilds website and forum (www.openbuilds.com) is a invaluable resource for information and assistance. We also have our own Openbuilds forum thread running for people to discuss this very kit, please check it out www.openbuilds.com/ooznest-ox-cnc-machine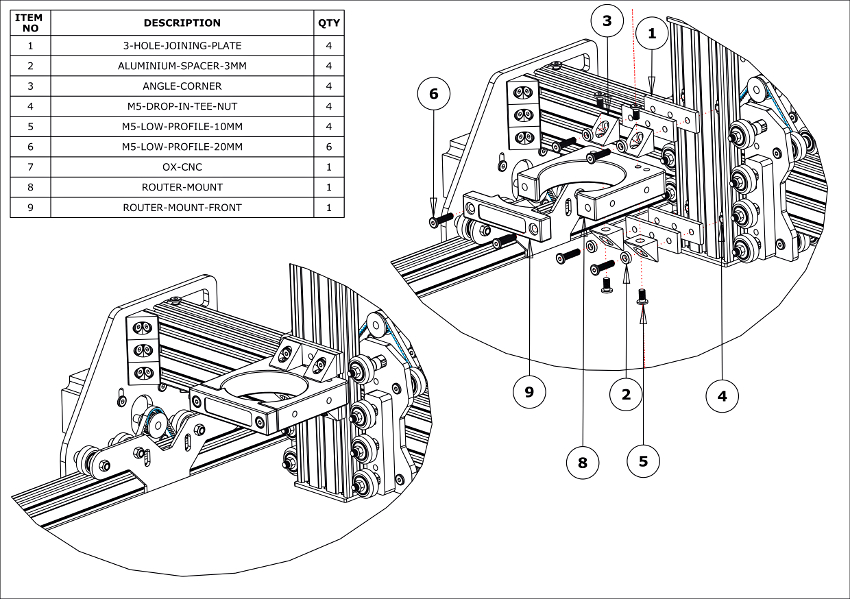 whats in the kit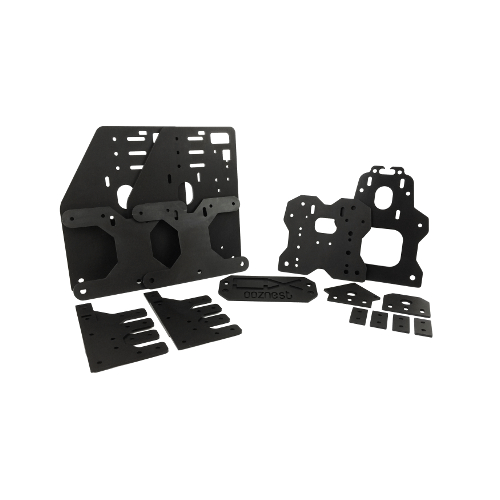 This kit includes all the plates to build the OX CNC Machine based on our design, manufactured 6082 CNC Machined Aluminium. It also includes custom NEMA23 Threaded rod mounts, so there is no need to buy these separately.