Signmaking and illustrative work on your CNC Machine requires a specialist type of end mill to get the best possible quality, speed and accuracy of your project. Amana Tools 1/4″ CNC Insert V-Groove end mill is long-lasting and will allow you to achieve precision and depth for any carving and machining process.
Amana Tool's end mills only use the highest quality sub-micron grain carbide. The manufacturing process of Amana endmills takes advantage of a manufacturing process which provides both accuracy and detail along with a razor-sharp cutting edge. This will result in clean cuts, excellent cut and surface finish, and most importantly longer tool life.
This Amana Tool V-Groove router bit has productivity in mind. The endmill is provided with the option of changing the knives so they can be replaced providing a cost-effective solution to replacing a whole router bit. It also has the added benefit of better chip evacuation by stopping buildup at the cutting edge tip.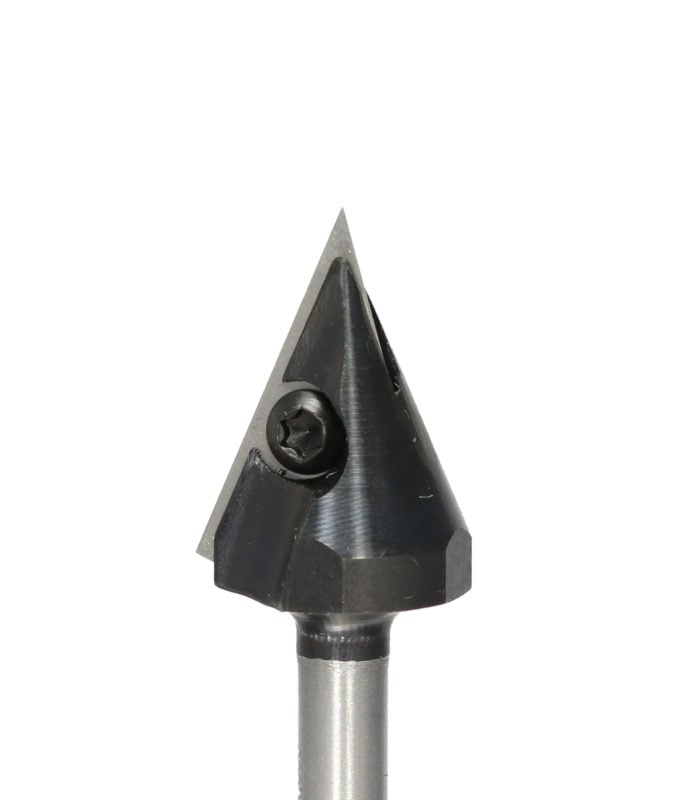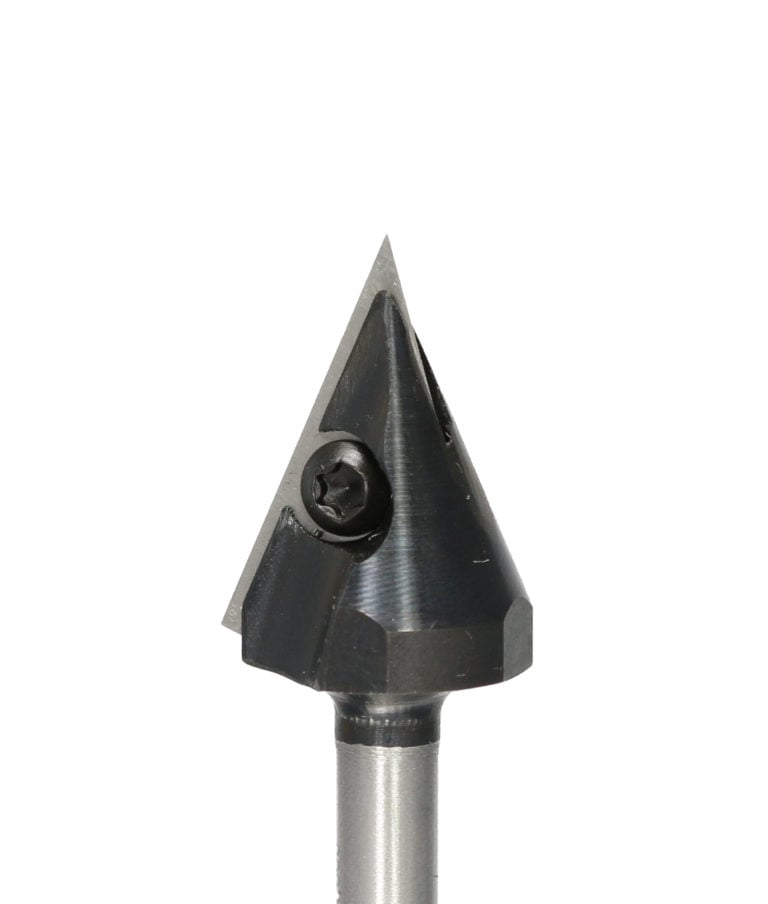 Use this End Mill to cut
Aluminum, Brass, Bronze, Copper, Gold, Silver & Carbon Fiber (Engraving Only)
Composites
Composite Decking
Foam
High-Density Polyethylene (HDPE)
Laminate
Melamine
MDF/HDF
PVC
Sign Board
Solid Surface
Veneered Plywood
Wood
Xanita® Board*
20lbs High Density Urethane
Choosing the end mill for you
The table below shows the sizes available in our Amana Tool V-Groove end mill.
| | | | | | |
| --- | --- | --- | --- | --- | --- |
| SKU | Cut Diameter (D)  | Shank Diameter (d) | Cut Length (B) | Bit Length (L) | Degree (a) |
| RC-1145 | 13/16″ (20.64mm) | 1/4″ (6.35mm) | 63/64″ (25.01mm) | 2-5/16″ (58.74mm) | 45° |
| RC-1148 | 1-1/16″ (26.99mm) | 1/4″ (6.35mm) | 59/64″ (23.42mm) | 2-25/64″ (60.72mm) | 60° |
| RC-1142 | 1-1/2″ (38.10mm) | 1/4″ (6.35mm) | 3/4″ (19.05mm) | 2-5/8″ (66.68mm) | 90° |
 Not for use in a hand-held router.
For best finishing results, blow hot air on the cut area while cutting, with a low feed rate of 500-1,000mm/min at RPM 6,000-10,000.
Maximum RPM: 35,000