ABOUT THE WORKBEE CNC ROUTER KIT
The WorkBee CNC Machine is the result of years of experience, feedback, and suggestions from selling the OX CNC Machine. It has been designed from scratch, and can accurately cut foams, woods, plastics and aluminium to 0.2mm accuracy or better. Functional engineering parts, toys, signs or anything else that can be imagined, can be made on the WorkBee CNC Router.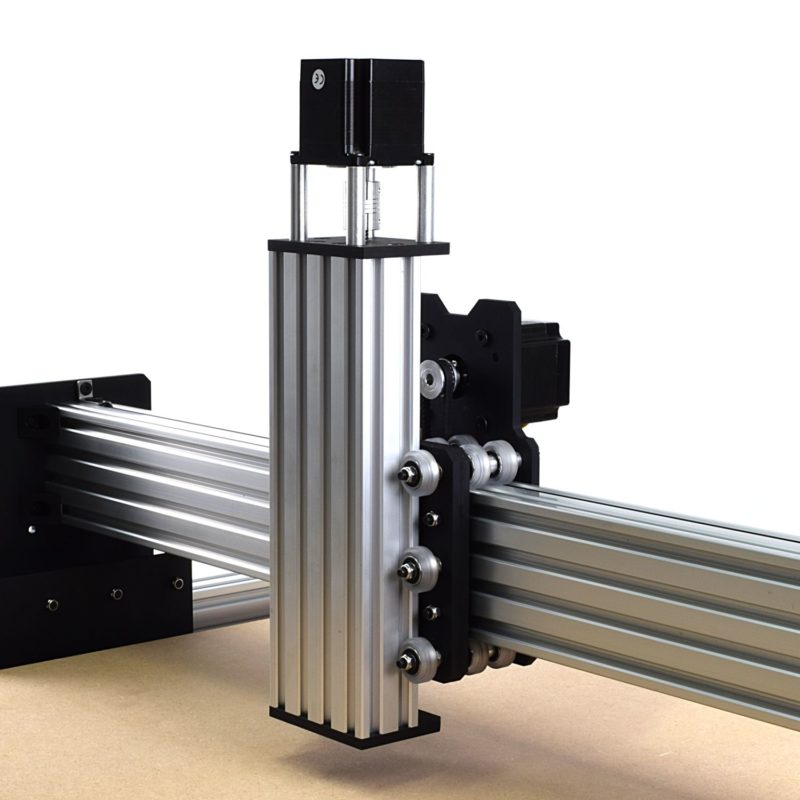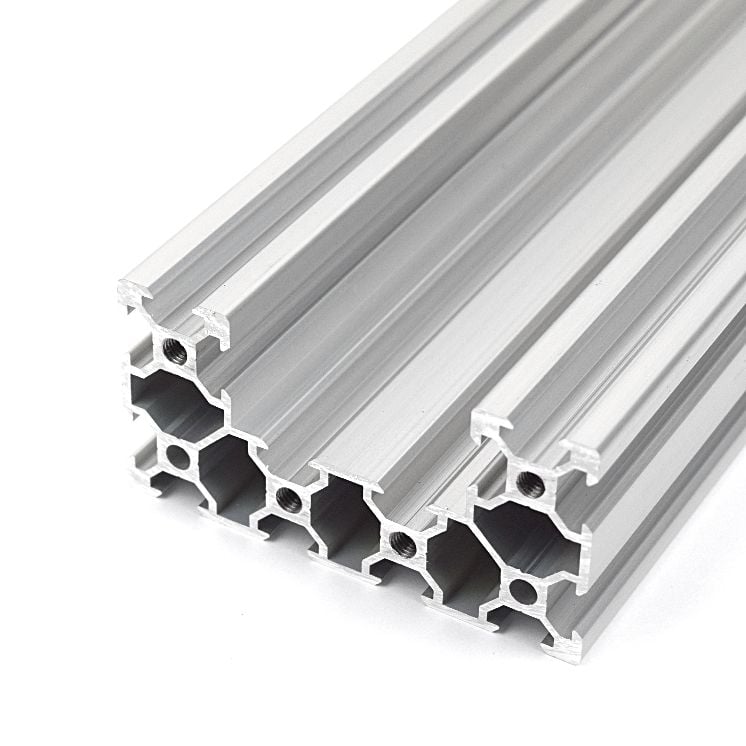 On the X and Y Axis of the WorkBee CNC Router C-Beam extrusions are used, the C-Beam is a 'C' shaped profile that incorporates the V-Slot system. The C-Beam not only has strength benefits, but it also allows the drive systems to be shielded from cutting debris. With a screw system, on all axes, the screws are shielded in side 'C' channel. On a belt setup, the Y-Axis belt are also inside the 'C' channel shielded from debris, the X-Axis belt isn't shielded, but as it is above cut area this isn't of concern.
48 x Xtreme Solid V Wheels are used on the WorkBee. The wheels are made from super hard polycarbonate that reduces wheel compression and wear. The plates are manufactured from 6mm aluminium, and have a protective anodised coating. The plates have been designed completely from scratch, and have been carefully thought about in terms of function, usability, and ease of assembly.
DUAL DRIVE SYSTEM
The main request we got for the OX was for a lead screw driven version. The WorkBee has been designed from the ground up to incorporate this and more.
A screw driven system limits the size of the machine to a maximum of 1000x1000mm. Having this limitation was not practical. To overcome this, the WorkBee CNC Router can either by driven by screws, or by belts. Belts don't have the same limitation as screws, therefore the WorkBee is available up to 1500x1500mm in size.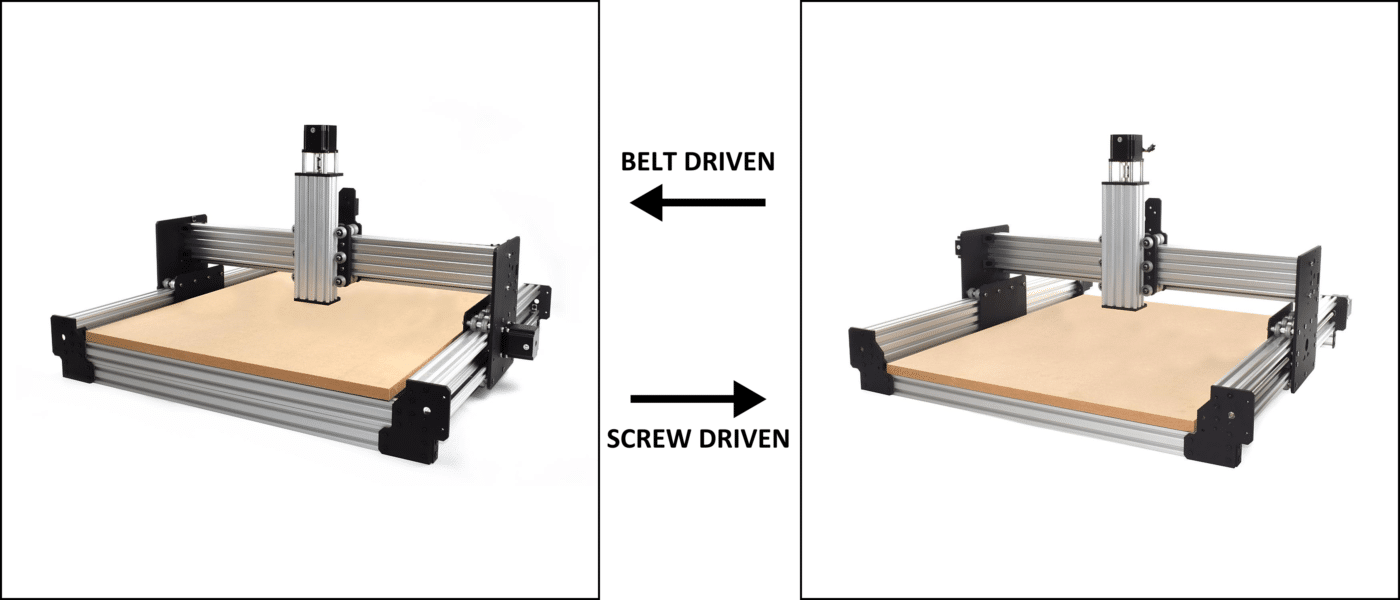 The WorkBee CNC also has two different spoiler board configurations included in each kit. One for shallow work up to 27mm deep, and a lowered setup up to 47mm deep. Having this option is beneficial, if the plan is to only cut thin materials, it is a waste of rigidity to have the Z-Axis reach down more than needed. The Screw driven version, right image above, shows the lowered configuration.
EASE OF ASSEMBLY
We like to think we have made a name for ourselves by creating excellent assembly manuals for our machines. The manuals provided with the WorkBee are no different. The WorkBee CNC Router comes with a full assembly manual. It has Ikea'eske assembly diagrams in addition to instructional writing. We also have a Youtube Channel where we are constantly posting tutorial videos on using the machine.
If you have any problems along the way we are a quick phone or email away to provide you with the help you need.
As the WorkBee is an Opensource CNC Machine their is a large community around the WorkBee with user groups on Facebook, Google & Openbuilds.
The WorkBee comes with a 1 years warranty on all the parts, so if anything is damaged or stops working, we will send a replacement out quickly.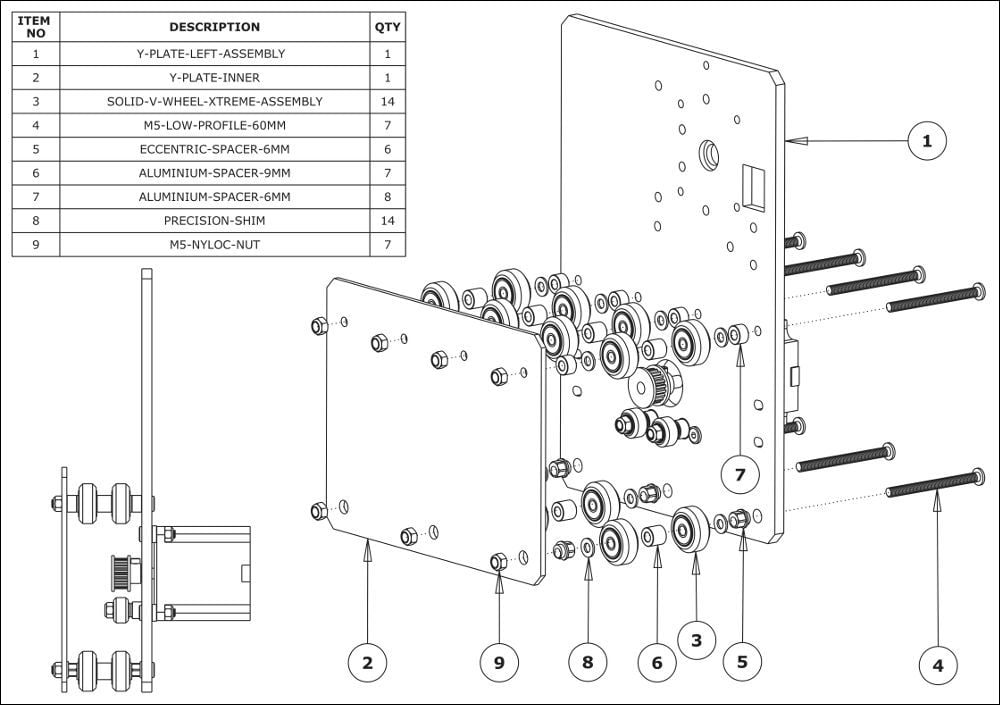 MADE IN BRITAIN
Ooznest and the WorkBee CNC Router are a proud member of the Made In Britain Directory. The WorkBee kits are designed and assembled in our UK Offices. Currently all the extrusions, wires, and plastic parts are manufactured in Britain, and we are continually looking to get more individual parts manufactured here as well. When you contact us you can be 100% sure you will be speaking to someone in our UK Office.

Technical specification
SIZES
Frame Size
750 x 750mm
750 x 1000mm
1000 x 1000mm
1000 x 1500mm
1500 x 1500mm
Working Area
550 x 520mm
550 x 770mm
800 x 770mm
800 x 1270mm
1300 x 1270mm
Z Height
54mm Or 94mm Travel, 27mm Or 47mm Workable depth, with a 12mm spoilerboard. The spoilerboard supports have two height configurations, these are the maximums for each configuration.
Motion
Drive System – ACME Lead Screws Or GT3 Timing Belts
Linear Guides – Polycarbonate wheels on anodised C-Beam V-Slot Extrusion.
Motors – NEMA23 175oz Stepper Motors (X, Y & Z)
Accuracy – 0.05 – 0.10mm (Screw Driven) Or 0.10 – 0.20mm (Belt Driven)