Cutting Carbon Fibre on your CNC Machine requires a specialist type of end mill to get the best possible quality, speed and accuracy of your project. Amana Tool Spektra Coated Square 10 Flute Down-Cut end mills with unique Spektra Coating from Amana Tool is designed to produce minimum failures in composites reducing issues with layer separation and loss of mechanical strength.
Amana tools end mills only use the highest quality sub-micron grain carbide. The manufacturing process of Amana endmills takes advantage of an edge processing system which gives the endmill a tool geometry that combines both high abrasion resistant substrates and tactile fluting to create an endmill that shatters the fibres in the composite keeping heat to a minimum. This process will result in clean cuts, minimal chip re-welding, excellent cut finish, and most importantly longer tool life.
These Carbon Fibre cutting endmills from Amana Tools have a specially developed Spektra coating. The Amana Spektra coating provides a much harder cutting edge over standard carbide, increasing tool life. It also has the added benefit of better chip evacuation by reducing the build-up of chips inside the flutes and retain a sharper cutting edge for longer.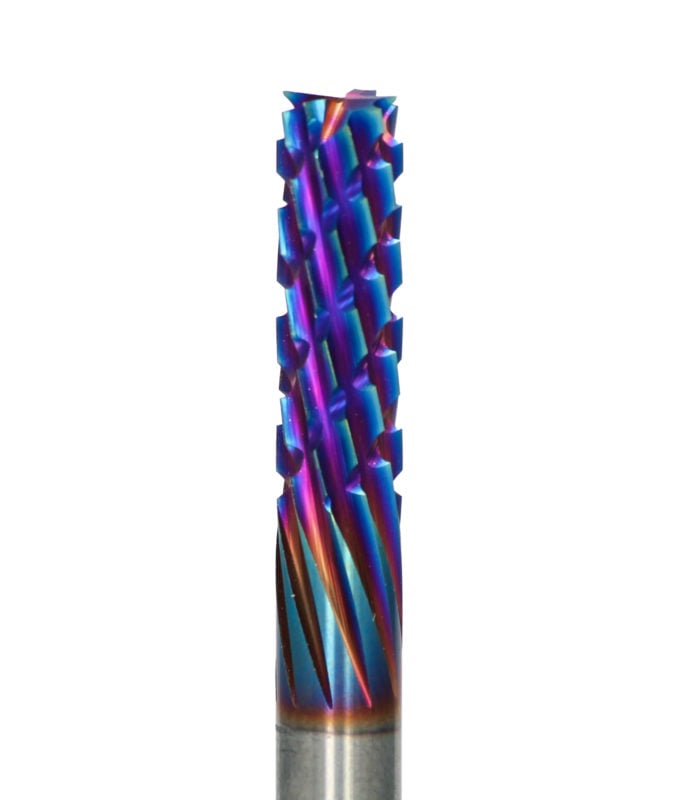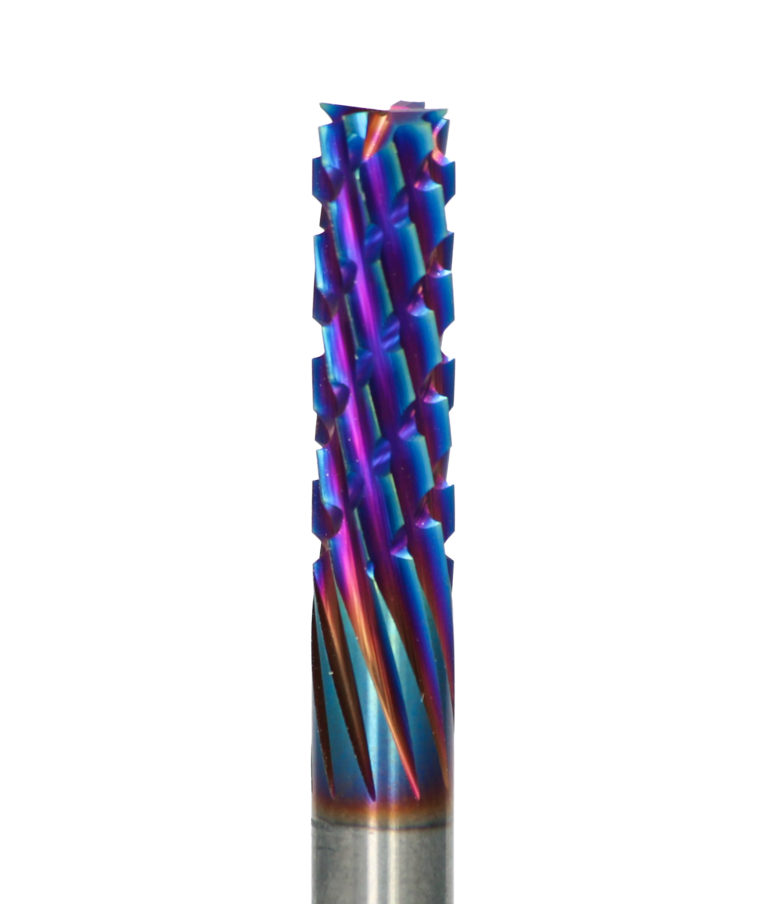 Use this End Mill to cut
Carbon Fiber
Carbon Fiber Reinforced Polymer (CFRP)
Carbon Graphite
Composite Materials
Fiber Glass
Fiberglass PCB Board
Fiber Reinforced Plastic (FRP)
Glass Fiber Reinforced Polymer – Plastic Materials (GFR)
Glass Reinforced Plastic (GRP)
G10 = High-pressure fiberglass laminate, a kind of composite material
G10 / FR-4 Glass Epoxy Composite Laminate Material
G11 / FR-5 Glass Epoxy Composite Laminate Material
Phenolic
Phenolic "Garolite" G-7
Plastic PVC & Acrylic
Choosing the end mill for you
The table below shows the sizes available in our Amana Tool Carbon Fibre line of end mills. We stock the Down Cut versions in 1/4″ to 1/8th.
| | | | |
| --- | --- | --- | --- |
| Cut Diameter (D) | Shank Diameter (d) | Cut Length (L) | Bit Length (BL) |
| 1/4″ (6.35mm) | 1/4″ (6.35mm) | 0.75″ (19.05mm) | 2.5″ (63.5mm) |
| 1/8″ (3.175mm) | 1/8″ (3.175mm) | 0.5″ (12.7mm) | 2.0″ (50.8mm) |

Note: Blue based color dissipates immediately upon use. nACo® nanocomposite coating will not wear off.
Maximum RPM: 35,000