Cutting Aluminium on your CNC Machine requires a specialist type of end mill to get the best possible quality, speed and accuracy of your project. Amana Tool Spiral-O-Flute Upcut end mills pull chips away from your material, the single 'O' flute with unique Zrn Coating from Amana Tool creates larger chips dispersing heat effectively.
Amana tools end mills only use the highest quality sub-micron grain carbide. The manufacturing process of Amana endmills takes advantage of an edge processing system which gives the endmill a mirror finish with a razor-sharp cutting edge. This process will result in clean cuts, minimal chip re-welding, excellent cut finish, and most importantly longer tool life.
These Aluminium cutting endmills from Amana Tools have a specially developed ZrN coating. The Amana ZrN coating provides a much harder cutting edge over standard carbide, increasing tool life. It also has the added benefit of better chip evacuation by reducing the build-up of chips inside the flutes.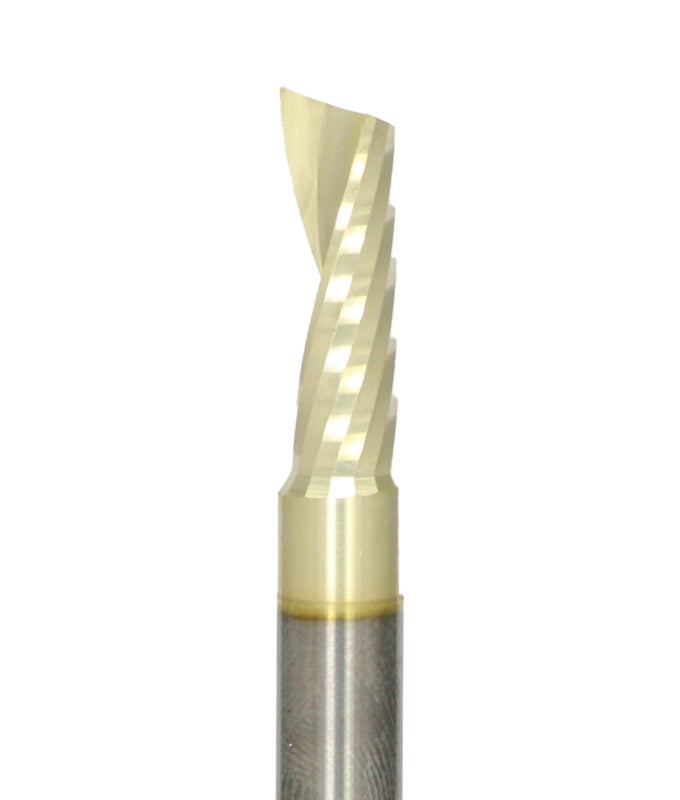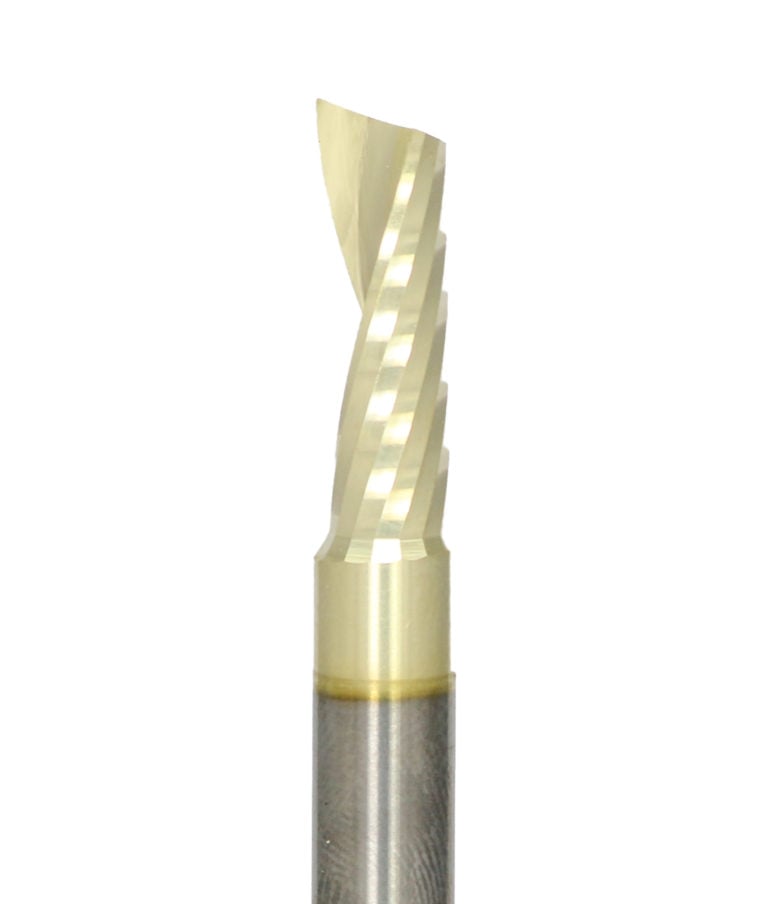 Use this End Mill to cut
ALPOLIC® Copper Composite Material (CCM)
Alucobond®
Aluminum
Aluminum 5052
Aluminum 6061
Aluminum Alloys (Al-Alloy)
Aluminum Composite Materials (ACM)
Aluminum Composite Panel (ACP)
Alupanel®
Brass
Copper
Dibond®
Durabond*
e-panel™
Etalbond®
Fomex® with Aluminum Face
Gold
Non-Ferrous Metals
Plastic
Silver
Solid Surface
Titanium Composite Material (TCM)
Wood
Choosing the end mill for you
The table below shows the sizes available in our Amana Tool Aluminium line of end mills. We stock the Up Cut versions in 1/4″ to 1/16th.
| | | | |
| --- | --- | --- | --- |
| Cut Diameter (D) | Shank Diameter (d) | Cut Length (L) | Bit Length (BL) |
| 1/4″ (6.35mm) | 1/4″ (6.35mm) | 0.75″ (19.05mm) | 2.5″ (63.5mm) |
| 1/8″ (3.175mm) | 1/8″ (3.175mm) | 0.5″ (12.7mm) | 2.0″ (50.8mm) |
| 1/16″ (1.587mm) | 1/8″ (3.175mm) | 0.25″ (6.35mm) | 1.5″ (38.1mm) |

 WARNING! Never attempt to cut ferrous metals with these bits. Inspect cut quality and adjust feed / speed accordingly. For optimal results and extended tool life use mist lubricant system or air cooling.
Maximum RPM: 35,000