The uStepper Robot arm is a 3D Printed programmable arm. It is an ideal learning platform to get real life motion control programming experience when used with the Arduino compatible uStepper control boards. The uStepper Robot Arm makes use of three NEMA17 Stepper motors for the arm motion, and a servo motor for the gripper.
The Robot arm is designed by Mogens Nicolaisen, Co-Owner of ON Development IVS. He has designed it to be full 3D Printable, make it very easy to print spares, or even tailor it to your individual usage applications.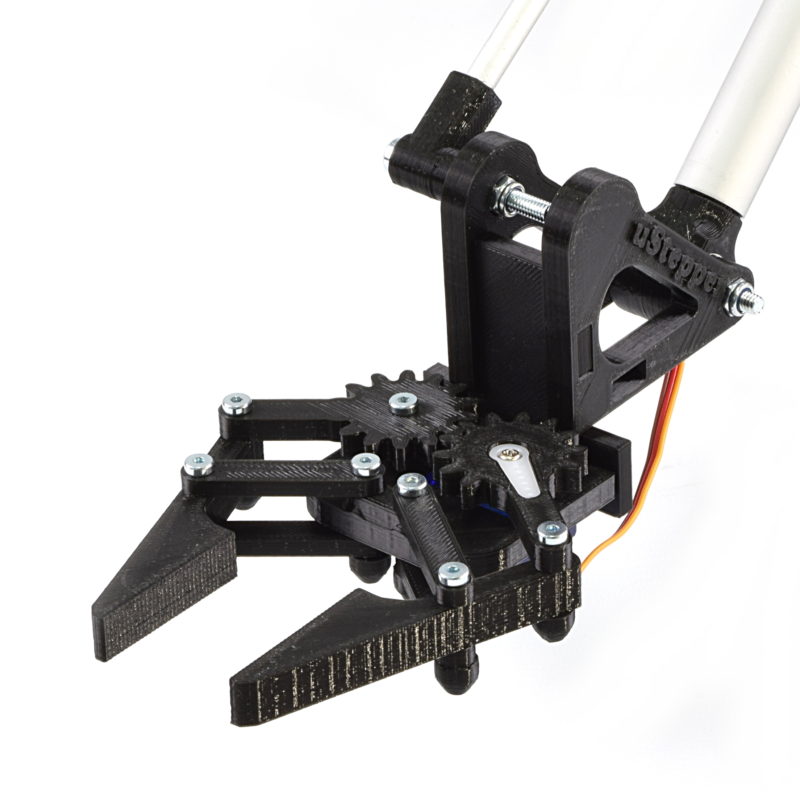 FEATURES
3D Printed Plastic Parts.
Micro Servo Gripper.
NEMA17 Powered Arms.
3 Axis 360º Motion.
320-540mm Arm Reach.
700-350g Maximum Lift.

OPTIONS
We have 3 available options for the uStepper Robot Arm:
Robot Arm Base kit, includes all the mechanics and the servo motor.
Robot Arm Base kit + Motors, includes the Base kit and 3 x 62oz NEMA17 Stepper Motors.
Robot Arm Combo Kit, includes the Base kit, 3 x 62oz NEMA17 Stepper Motors, and 3 x uStepper Controller Boards.
Robot Arm Full Kit, includes all the above, plus uStepper Proto Shield, Bluetooth Module, Input Power Pack, and Necessary Wiring.
USING THE USTEPPER ROBOT ARM
If the Combo kit is chosen, there is demo code available for the uStepper controllers. This firmware will allow you to record movement of the arm, re-play it, and open/close the gripper. For the Robot arm to work you will need some additional parts, including a Power Supply, Misc Wiring, UART Bluetooth Module. The demo code can be expanded to include additional functions per your individual needs. The demo code is available here: GitHub