The Smoothieboard is a culmination of the ethos of the Smoothie project into a controller board. A Smoothieboard runs smoothieware. Smoothieware provides a single open source platform for digital fabrication machines. Smoothieware aims to be as useful to many people and use-cases as possible, including 3D Printers, CNC Machines, Laser Cutters, and many others. By combining all this onto the Smoothieboard, it creates a sinlge platform that can be shared and built upon no matter what you are using the Smoothieboard for.
Smoothieboard is now on version 1.1, and is considered a very mature platform with a good community, making the transition to 32-bit a pain free process. The Smoothieboard 5X has 5 independent integrated A5984 stepper drivers. The integrated drivers allow digital current control up to 2A at 32x microstepping. At maximum, this means you could control any 3 Axis machine with 2 separate extruders. In addition there is 3 large 12A MOSFET outputs for heated beds or hotends, and 3 smaller 5A ones for fans.
12-24V can be supplied to the Smoothieboard without the need for any additional modification. The large MOSFET's can support 12A at 24V, and are supplied by their own input, so you can easily mix 12V and 24V components.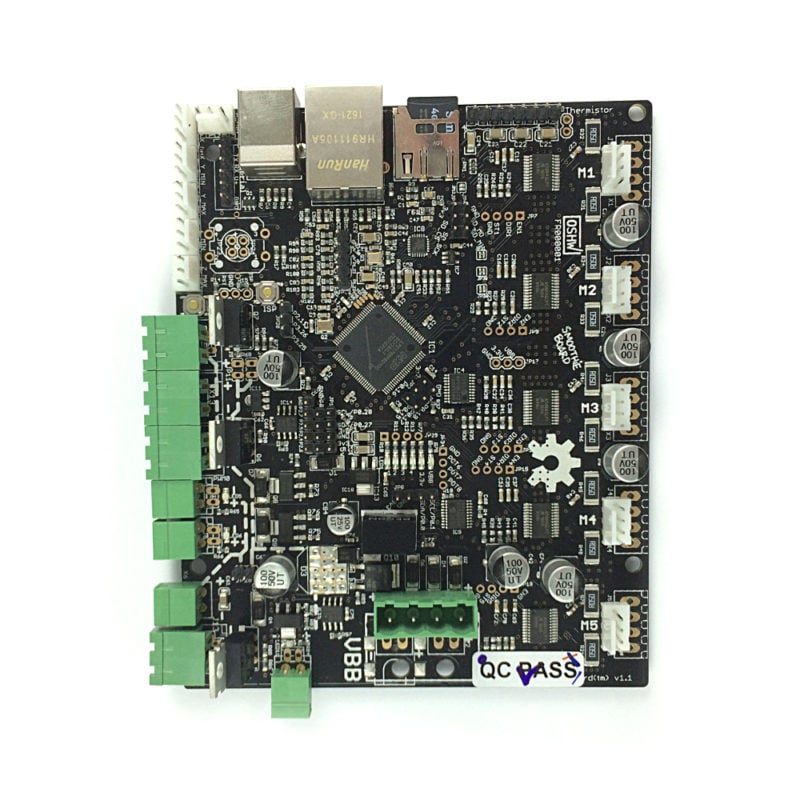 A 32-Bit Controller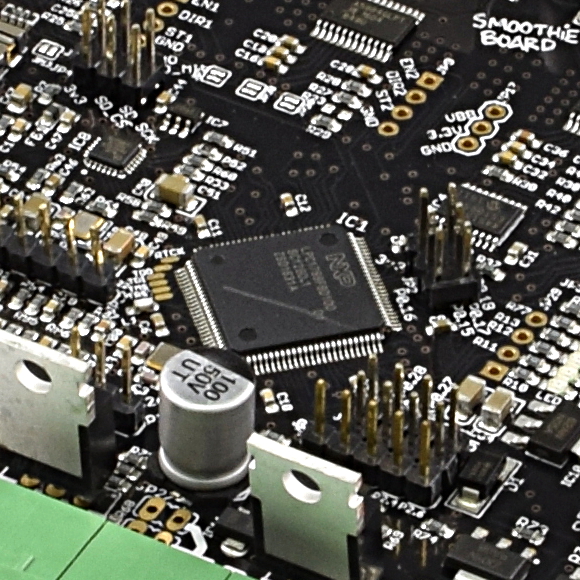 32-Bit controllers are becoming the new standard on 3D Printers. 8-bit controllers are beginning to show their age. With 3D Printers coming more advanced, features are having to be disabled,. Or in the more extreme circumstances, the 3D Printer has to be slowed down to accommodate the limited power of the controller. Switching to 32-bit not only gives you more power, and allows you to run quicker, but can also improve print quality because of much higher step rates and smoother motion planning
Smoothieboard runs on a 32 Bit ARM-Cortex M3 microcontroller, running at 120Mhz. It has 512kB of flash memory, and 64kB RAM. This extra horse power allows for much higher stepper speeds. On an 8-bit system, the maximum is around 16000 steps/s. With 32-bit this can be pushed to 40000.
Smoothieboard runs Smoothieware. Smoothieware is an easy to use and configure firmware, with previous firmwares, a setting change required a re-flash. With Smoothieware it is as simple as editing a file on a SD Card. Smoothieware runs machines incredibly smoothly (Why it's in the name!) and is also jerk free. Smoothieware isn't limited to 3D Printers, it can be used on any type of machine, including CNC Machines and Laser Cutters.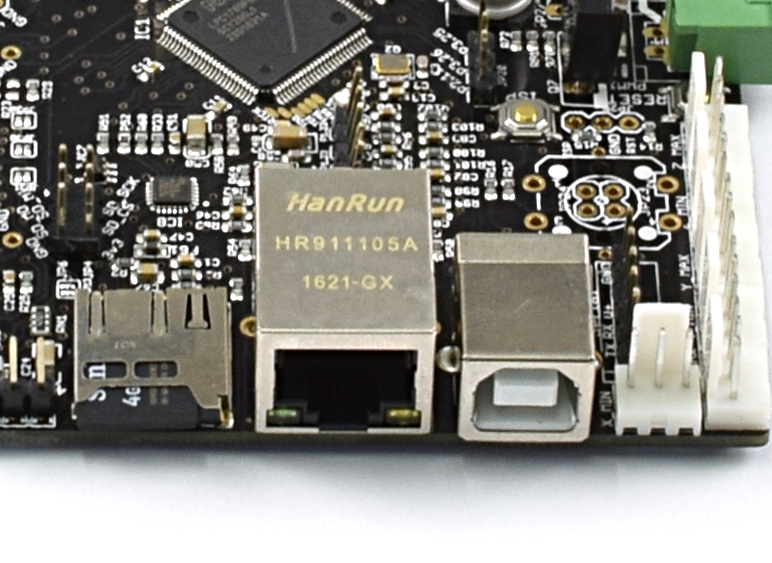 Features
Runs on a 32bits ARM-Cortex M3 at 120Mhz.
10 – 24V Input voltage.
Up to 5 independent stepper motor driver ouputs, 3 Axis + 2 Extruders.
Integrated digital current controlled 2A – A5984 stepper drivers.
6 limit switch inputs.
4 thermistor inputs
6 PWM MOSFET outputs, 3 x 12A(12 – 24V) , 3 x 5A (12 – 24V)
Can control a CNC Spindle or Laser.
Ethernet and USB Connectivity.
Integrated SD Card Reader.
Easy configuration by editing the file on the SD Card.
SPI, I2C, Serial Port, and GPIO outputs.
More information on all things smoothie can be found on the project page: Smoothieware
WHAT IS INCLUDED
The Smoothieboards we sell are no longer from the original designer as they cannot offer a regular supply. You will be get the Smoothieboard v1.1 5XC-R. The XC means it comes with pre-soldered connectors. For the Smoothieboard to print without a USB cable connected (I.e from a LCD) requires a voltage regulator, which will pull the 5v logic power from the power source. By Default our version includes the regulator.
4gb SD Card is not provided by default. When included please see the Smoothie documentation for setting up the SD Card: http://smoothieware.org/sd-card