ABOUT THE OX CNC ROUTER KIT
The Ooznest OX CNC Router Kit is based on the OX CNC Machine designed by Mark Carew of Openbuilds (www.openbuilds.com/builds/openbuilds-ox-cnc-machine), and incorporates many upgrades from the Openbuilds community. Mark Carew based the OX on the Routy, which was in turn based on the Shapeoko.
The OX hobby CNC machine makes full use of the excellent V-Slot Extrusion system. The Y-Axis uses the biggest size available, 20 x 80mm, and the X-Axis has Dual 20 x 60mm's plus an extra 20 x 40mm for added rigidity. This kit comes in multiple sizes from 500x750mm to 1500 x 1500mm.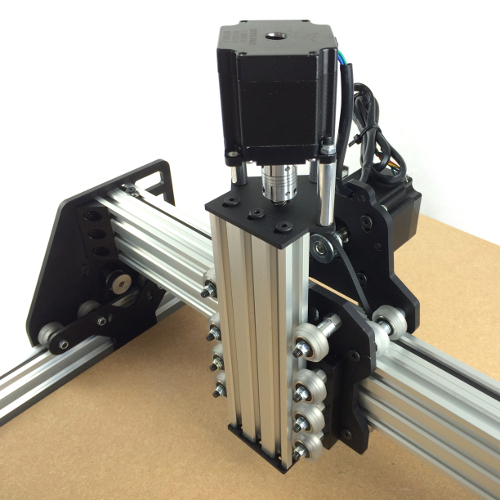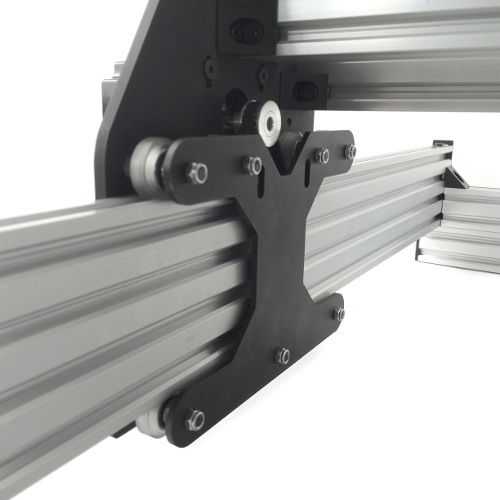 Our OX CNC kit uses a total of 30 Xtreme Solid V Wheels. These are manufactured from super hard polycarbonate, this reduces wheel compression, and keeps wear to a minimum.
The plate designs used on our hobby CNC machine are based on the originals by Mark Carew. However we have added our own touches to increase the performance and design of the machine. On the Y-Axis we have added an inner wheel brace, which reduces the movement of the wheels, and also helps to shield the wheels from cutting debris. Plates have also been added or modified to completely cover any bare extrusion ends. All the plates supplied with the kit are manufactured from 6082 Aluminium. The plates are then shot blast and anodized in matt black, to give a very clean finish.
ease of assembly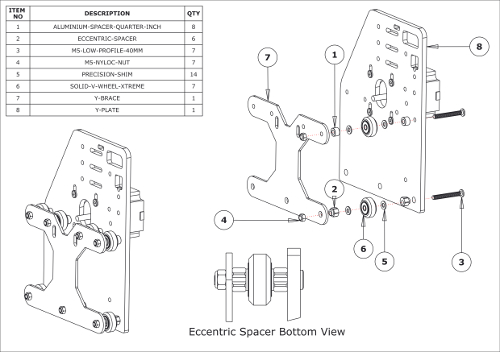 We are known for making excellent instruction manual, and the one with the OX CNC Machine are no different. We have made a complete written instruction manual, with IKEA'eske assembly diagrams. Using our written manual will make the build a breeze.
If you have any problems along the way, we are available by phone or email to help you. Also the Openbuilds website and forum (www.openbuilds.com) is a invaluable resource for information and assistance. We also have our own Openbuilds forum thread running for people to discuss this CNC kit, please check it out www.openbuilds.com/ooznest-ox-cnc-machine
made in britain
Us and the OX CNC Machine are a proud member of the Made In Britain Directory. The OX CNC Kit is assembled in our UK Warehouse, and we are always pushing to get more individual parts manufactured in the UK. We have built a reputation for excellent customer service, and we aim to keep it, when you contact us you can be 100% sure you will be speaking to someone in our UK Office.

whats in the kit
This CNC Router kit includes everything needed to complete the mechanical portion of the OX CNC Machine, this includes four NEMA23 Stepper Motors and GT3 Pulley's/Belt. The main components not included, which are needed to get our OX Kit running and cutting, is a power supply, controller board, and a Spindle. Note the MDF Spoiler Board is not included in this kit.
All the V-Slot Rails are supplied pre-cut and tapped. The Z-Axis ACME Lead screw is cut to the required length, and slightly filed, to insure a snug fit with the 688zz bearings.
The 500x750mm comes with 1 spoiler board support. Sizes with an X Axis of 750mm come with 2 spoiler board supports. Sizes with an X Axis of 1000mm come with 3 spoiler board supports. Sizes with an X Axis of 1500mm come with 4 spoiler board supports
To complete the build of this Hobby CNC machine, only 4 Allen Keys & 2 Spanners are needed!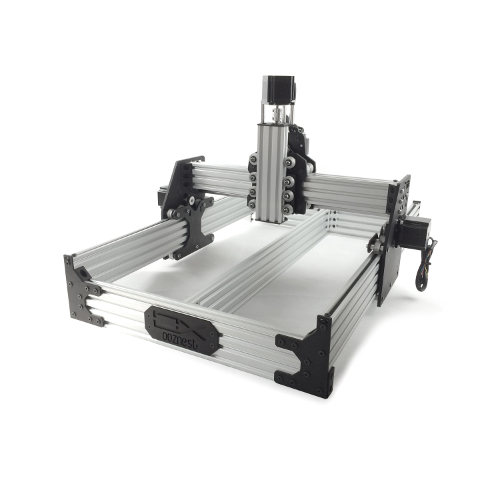 Technical specification
SIZES
Frame Size
500 x 756mm
750 x 756mm
750 x 1006mm
1000 x 1006mm
1000 x 1506mm
1500 x 1506mm
Working Area
320 x 525mm
570 x 525mm
570 x 775mm
820 x 775mm
820 x 1275mm
1320 x 1275mm
Z Height
53mm Travel, 26.5mm Workable depth, with a 12mm spoilerboard.
Motion
Drive System – X & Y GT3 Timing Belts. Z ACME Lead Screws
Linear Guides – Polycarbonate wheels on anodised V-Slot Extrusion.
Motors – NEMA23 175oz Stepper Motors (X, Y & Z)
Accuracy 0.10 – 0.20mm
credits
We would like to give a big thank you to Mark Carew and Openbuilds part store for designing an excellent Hobby CNC Machine and V-Slot system, which they have allowed to be freely shared, remixed, and sold. We would also like to thank the Openbuilds and wider community for sharing their upgrades to make the OX even better.