The CNC xPro V4 Controller is a complete multi axis GRBL Controller. It is ideal for CNC Machine applications that require precise motion control. The CNC xPro V4 is equipped with 4 embedded DRV8825 Stepper motor drivers capable of driving 4 small or large motors, this allows for a dual motor configuration on the X, Y or Z Axis. The V4 comes pre-flashed with the latest version of GRBL, so you can get up and running with your CNC Machine as quick as possible.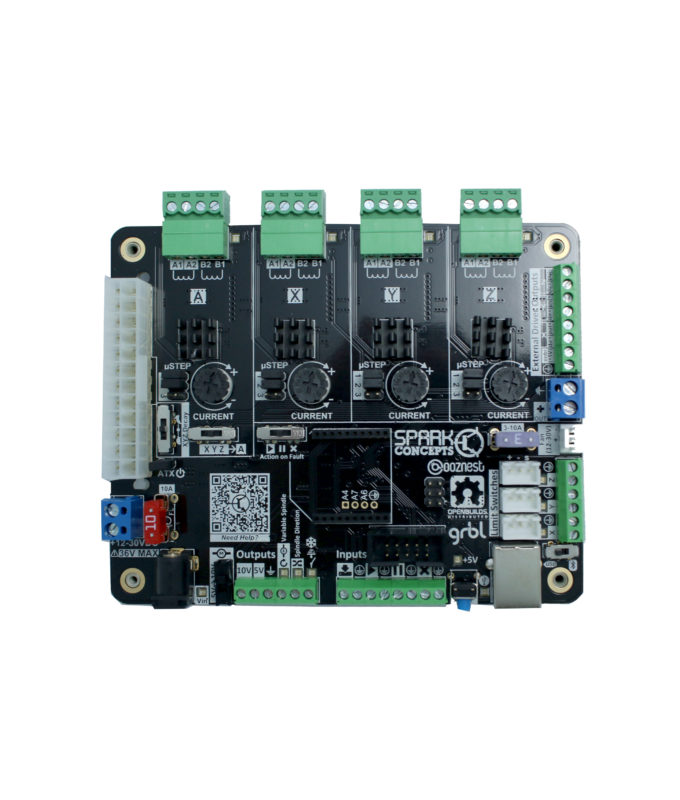 New on the V4 is:
DriverMinder – Motor drivers are monitored for faults, if there is a fault, the user is presented with 3 options, Pause, Stop or Play.
4 Layer Design with isolated motor and logic power buses.
Three power input methods, Laptop PSU, Terminal, or ATX.
Selectable output spindle voltage range, 0-5V or 0-10V.
3A open drain coolant output.
DIP Switches to control decade mode, and driver clone settings.
FEATURES
Pre-loaded with latest GRBL Version.
Compatible with ESTLcam.
4 Embedded DRV8825 Stepper Drivers with improved thermal management, capable of supplying 2.5A. Up to 1/32 micro stepping.
4th Driver can clone either the X,Y or Z Axis, or be used independently.
3 Mechanical Endstop inputs. Power supplied from either a Laptop PSU, ATX PSU or 12-24V Power Supply.
12V & 5V outputs for power accessories.
G-Code From either the USB Port or Wireless (Xbee, WiFly, or RN42).
SOFTWARE
The CNC xPro controller comes pre-flashed with GRBL and interprets G-Code Commands. To send G-Code we recommended using either Universal G-Code Sender or CNCjs.
Please note that the CNC xPro is not compatible with Mach3.
WARNING: GRBL Controller from www.zapmaker.org, has in some instances bricked the CNC xPro V4. So please avoid using this G-Code sender.
For the latest xPro V4, $4 needs to be set to 1, and $10 also needs to be set to 1.
SUPPORT
For initial setup please refer to the CNC xPro GitHub Wiki page here: https://github.com/Spark-Concepts/xPro-V4/wiki
If you have any problems you can either contact us, or get help from the Openbuilds community, which have a thread dedicated to the CNC xPro. This can be found here: https://openbuilds.com/builds/cnc-xpro-v4.8031/